Here's a lil something I did over the past few days. I decided to give the car some tender loving care before I take photos of it to show the mods I've done to it. I gave it a nice coat of wax n cleaned it up inside n outside.
The main thing I wanna share with u car fanatics is the wax I used. I've been using Turtle Wax brand for billions of years. I've been using it to polish my dad's cars from when I was a kid. Then I used it on my own cars from the 1st car I owned till today. I previously used the Color Magic range that comes with the Chipstik. As all my cars are black, I used black colored Color Magic exclusively on all 3 of my cars for quite some time. It's pretty hard to polish off the powder after it hazes over though. My last bottle of Color Magic ran out after the last waxing I did for my Toyota Wish. There's about 1/4 bottle left which isn't enough for my Merc. So..................... I went out to buy another bottle. While at the car accessories shop, I saw a video that was playing at the Turtle Wax stand n I was pretty impressed. It was a video of the new wax called Turtle Wax ICE. It's a fully synthetic new technology wax.
I was so excited to try it out that I ripped it out of the packaging the minute I got home. I should have taken a pic of the packaging before ripping it out though. It's a special promotional pack. It comes with a top quality microfiber cloth n sponge applicator + a bottle of Turtle Car Wash. Superbbbbbb deal as it is but here comes the clincher, there was a 20% discount at the time. The sticker price was rm109. With the discount, I only paid rm88. I totally forgot about the black Color Magic when I saw this fantastic deal. LOL.
Anyway, here's a picture of the bottle of ICE.
If u look carefully at the picture of the bottle, u will see that the liquid level is still right up there at the top where the blue cap is. That's the level it's at after waxing the whole car! I'll probably be able to use this bottle for the next 2 years.
The way it goes on is pretty simple. I washed the car n dried it as per normal. Then whipped out the ICE n poured some onto the applicator sponge. Just wipe it lightly over the paintwork. The ICE liquid itself feels like baby oil. It's kinda like giving the car an oil massage. Nothing like a hot oil massage for our darlings eh? Hehehe. Best thing about ICE is that we can apply it right out in the hot sunshine. That's right, u read correctly, it works on burning hot paint. I did it at 1pm in a tropical country with sun blazing down n the air temperature was 36C at the time! Try that with normal paste or liquid wax n all I can say is god bless you. LOL. Another fantastic thing about ICE is that we can now do away with the masking tape for all the black rubber n plastic trim. There's no need to avoid applying wax onto the plastic,rubber n chrome parts. Just wipe ICE right over all the black plastic, rubber, chrome trim n even the headlamp n tail lights. It actually shines all those parts too.
Here's a picture of the rubber trim between my door n C pillar. The rubber trim was grey n dull before ICE. It's now black n glossy after applying ICE on it.
Here's a picture of the bonnet to show just how deep the shine is. I looooooooooooove that shine. ICE absolutely rocks. It shines EVERYTHING n it's so easy to use. I did the whole car in under an hour. That's including the time it took me to wash n dry it! The black Color Magic was no where near this level of shine. It beads water like Rain X on the glass too. It's just awesome. I'll have to see how long the shine lasts now before passing final judgement on it though.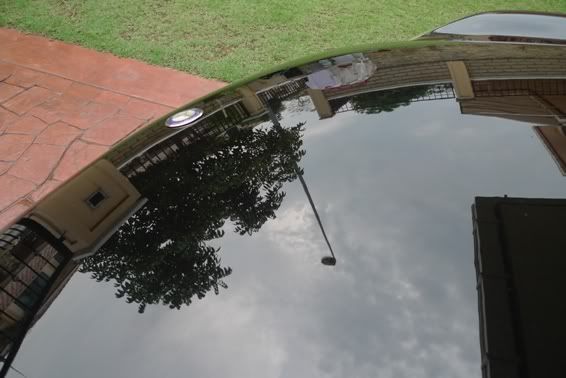 Next up will be a photo shoot of the car in a basement car park for more controlled lighting. This time, I'll use my DLSR for much better pics......... I hope. :)
If you liked this article or found it helpful, please check out the advertisements ya? You can also buy Turtle Wax ICE from Amazon through the link below. Your support is much appreciated. :) :) :)