At long last, The Stig's identity has been revealed and it's none other than Michael Schumacher, my 2nd most favorite driver. All these years I believed it was Damon Hill. Most Top Gear fans thought it was Damon Hill too.
Here he is being unveiled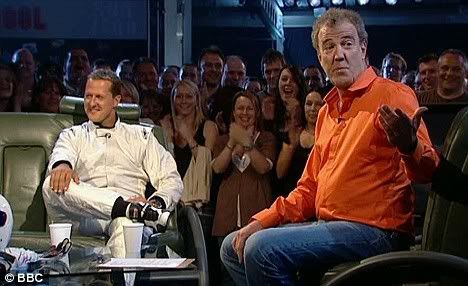 Anyway, the BBC is pretty smart. They've said that Michael is only The Stig in the 1st episode of the new season hence the big publicity stunt to reveal him as The Stig. He promptly went on to smash the lap record in the Ferrrari FSX by a massive 7 seconds!
I've read that they have other people on standby coz they're all racing drivers and have pretty full schedules. So they use whoever is free at the time. The list includes some famous drivers including former F1 drivers too.
Here's the list of people rumoured to have been The Stig.
1. Heikki Kovalainen- current F1 driver for McLaren Mercedes
2. Chris Goodwin- former F1 driver and current F1 commentator
3. Julain Bailey- former F1 driver
4.Ben Collins- America Speedway driver and James Bond stuntman
5.Terry Grant- stunt driver
6.Dan Lang- Swedish Snow mobile champion
7.Russ Swift- If you can remember, this fella has done lots of stunts for the local car companies like Proton and Suzuki if I remember correctly
So.............. the mystery behind The Stig continues as Top Gear fans all around the globe continue guessing who's the guy in the white overalls in each episode. I'm glad that they've only revealed 1 person coz if they revealed all of them, there would be no more aura surrounding the one and only awesome Stig.
All pics were taken from BBC.