It's been a looooooong time. I've always loved cycling since I was a child. I remember watching E.T the movie and falling in love with those all conquering BMX bikes that did everything including flying over the moon. Haha. I pestered my dad for the longest time and he finally bought me a BMX. Datuk Ng Joo Ngan is a good friend of my dad's so my first BMX was naturally from Joo Ngan's shop in Pertama Complex. My dad didn't wanna spend too much and I got a no name generic BMX that looked like it would fall apart at the very first dirt jump. Haha.
After a while, I wanted a better bike and slowly upgraded the parts, bit by bit. I used to save my school allowance, wash the car, polish the car, wash the toilets and mow the lawn, just to earn money for BMX parts. I studied at St. John's Institution and I would walk to the legendary Sum Ming bicycle shop in Jalan TAR whenever I had enough money for BMX parts. After about 2 years I had completed my dream bike. My pride and joy was a Diamondback Harry Leary with all the nicest parts available.
I used to ride 3-4 hours everyday, after school. I was into BMX racing and also Freestyling. The Wilayah Day BMX race is one of the highlights of the year and I used to look forward to it every year. It all came to an end when I had to go to Australia after Form 5. It was one of the saddest days of my life when I took my fully blinged up BMX to Sum Ming to sell for cash. It was the end of my cycling days for many years.
I got back to cycling when I came home from Australia and my working life began. I was working in the family business in Seremban and it's one heck of a boring town back in the stone ages. There was nothing much in the way of entertainment in Seremban but there were some really nice oil palm and rubber estates just behind my housing area. I was thinking that the trails in the estates would make for some really good cycling. My friends in KL/PJ were also bugging me to get a mountain bike so we could go cycling in Kiara. All of them bought their bikes from KSH in TTDI so I bought my first MTB from KSH too. It was a Kona Sex One, one of the very few full suspension bikes available at the time.
Here's a picture of the Kona Sex One from a magazine advertisement. Looks pretty sexy for a bike from 16 years ago eh?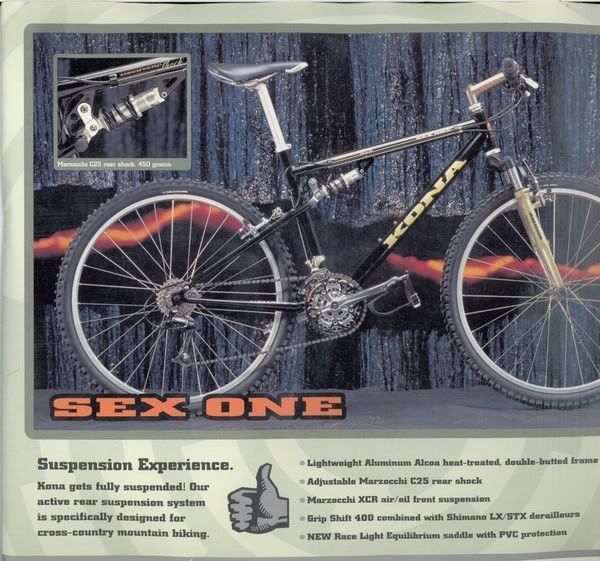 My friends rode Kona and Gary Fisher full suspension bikes too. Every time we went cycling, the other MTBers would stare at us as if we were aliens riding on UFOs. Haha. Full suspension bikes were extremely rare at the time. I certainly enjoyed my time in the estates behind my house and also the Kiara trails on the weekends when I came back to KL. It was so long ago that the main road going up the Kiara hill wasn't even paved yet.
After a while, life caught up with me and I stopped cycling again. Work commitments, the arrival of my first child, etc, etc. I thought of cycling many times over the years but I just didn't have the time for it. I'm sure many of you know the drill. It was all about money, money, money, work, work, work. I was a workaholic, working 14-15 hours everyday, raking in the dollars. However, my working life came to an end about 7 years ago when I got really, really, really sick. Many doctors were stumped. I was on the brink of death when a doctor at Subang Jaya Medical Centre finally diagnosed me with the Big C. Yes, it was cancer and my world came crashing down. I had all the money in the world but what was the point of having money if I had no life. So I quit everything and decided to just enjoy life as I didn't even know how long I had left to live. I thought of cycling again, to regain my fitness and to fight the Big C. I was much too weak though. My body had degenerated so much. I was a 5' 6" bag of bones at 50kg.
It took me a long time to get back to my normal weight of about 65kg. It was really difficult to regain my fitness as I had lost my left ear before being accurately diagnosed by the good doctor at SJMC. I had also lost all sensation on the left side of my body. My left arm, left leg, left torso, everything on the left was gone and it took me a while to regain some feeling. My left ear was beyond help though. There was nothing the doctors could do. This made it very difficult for me to exercise as I didn't have much feeling on the left and no sense of balance too. You guys who have both ears working perfectly better treasure it. You will be amazed to find out that you can hardly walk with just one ear because it's so difficult to balance yourself.
I managed to overcome all that after a while. I learnt to compensate for the loss of my left ear and sensation on my left side. I could run and go to the gym as part of my plan to regain full fitness again. I was just getting back to full fitness when my world came crashing down again....................... Talk about double whammy eh? This time I was diagnosed with a heart rhythm disorder. I had to have heart surgery and I had to stop exercising again...........
Anyway, it has been 2 years since my heart surgery and 7 years since the Big C. I'm now able to start exercising properly again. Problem is that I gained 10kg after the heart surgery so I started with a 9 week program to regain some strength. The 9 week program ended just before my birthday and my dearest wife bought me a mountain bike. It has been a rocky road but I will never give up. I will keep fighting whatever comes my way and I'm happy to be mountain biking again, after 16 loooooooooong years.