Look what I just got today. I went over to the local Distributor for Leica in Malaysia this afternoon and picked up the brown leather case for the D-Lux 4. Best thing is that it's totally free. Now, that's what I call good after sales service! They really do care about what happens after the sale and make sure their customers stay happy. Big huge thanks to Leica and Schmidt Marketing Malaysia.
This is currently the promotion for people who buy the Leica D-Lux4 now. After the warranty registration, you just go over to the Schmidt office in Petaling Jaya to pick up the lovely leather case which has a retail value of about rm700 if I remember correctly. This was the price I was quoted a few months back when I asked the local Leica dealers. They wanted a deposit on it before ordering 1 unit for me. I didn't buy it coz I wanted to try out the actual thing to see if it will fit my camera with the Ricoh LC-1 cap on it. After getting my case today, I can now confirm that the case will work with the Ricoh LC-1 cap. Thank heavens I didn't buy it then as it's free now for all D-Lux 4 owners. I bought my D-Lux 4 waaaaaaaay back in November when it was just launched so I guess just about everyone else will be able to get 1 too. Now all you fellas better hurry on over to Schmidt Marketing to claim that lovely leather case.
I'm sooooooooooo happy right now. I can't believe how much money I've saved. I now have the D-Lux 4 + Leather case + a Panasonic LX-3 for the same price as just the D-Lux 4 + Leather case in Shanghai. It's like I've gotten the LX-3 for free coz I saved about rm1700 which is what I paid for the LX3. Wheeeeeeeeeeeeeeee....... free is goooood. Hehehe.
Here's a picture of the leather case I picked up earlier today.
Just in case you guys wanna call Schmidt to check on the availability b4 going over there, here's their contact page. Just mouse over Malaysia and you'll see the Malaysian Branch details.
Schmidt Contact
Here's the map to the Schmidt office.
Map to Schmidt
Added on February 17.
I've received quite a few queries regarding the Panasonic LX3 fitting into this lovely Leica leather case. So here's some pics for you guys. Yes the case works for all you LX3 owners too so hurry over to the nearest Leica dealer and grab 1 for yourself. It's an absolutely gorgeous case.
As you can see in this pic, the LX3 grip sits nicely within the U shaped cut out in the case. It fits perfectly.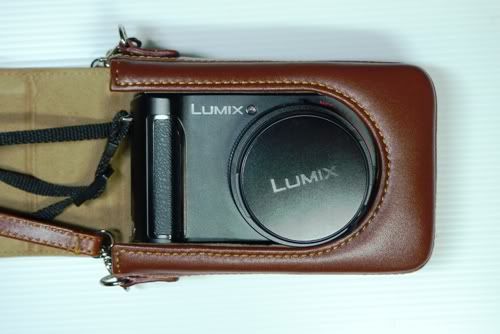 If you liked this article or found it helpful, please check out the advertisements ya? You can also buy the leather cases from Amazon through the links below. Your support is much appreciated. :) :) :)