Ok. Here comes the pictures of the complete Mac Daddy project. I chose the BBS RS-GT wheels in the end coz I love BBS wheels. What I did was send the wheels to a paintshop for a custom paintjob in a textured matt black. This way, I get both my favorite wheels n favorite color. Hehe. I also got the dual AMG exhaust pipes done so now Mac Daddy is complete.
List of things done so far is:-
1. CL style radiator grille
2. Flat bonnet emblem
3. K&N intake
3. Eibach suspension
4. AMG dual pipes
5. 80% window tint
6. 18" BBS RS-GT wheels
7. 225/40/18 front tires. 255/35/18 rear tires
8. Red engine cover. Painted with Krylon Fusion plastic paint.
Here's the final pictures.
I did the red engine cover myself using Krylon Fusion plastic paint. It's a nice glossy red which doesnt really show in the picture.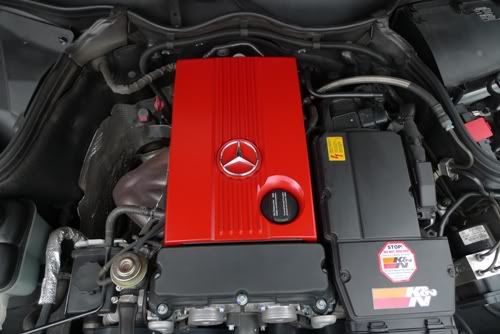 Project Mac Daddy is now complete and I dont think I will be adding more stuff to it. It's now time to just enjoy driving it as a daily driver. My initial thoughts about turning it into a 250hp fire breather has been scrapped. I've decided to just let it be the gentleman express it's meant to be.
Now how am I gonna quench my thirst for more power n performance? Well, I've decided to get another car for that purpose. I'm now torn between getting a Mercedes AMG C36, Lancer Evolution 7 GTA or Mitsubishi Airtrek Turbo R. I was initially thinking of the C36 but I'm thinking seriously about the Airtrek now as it provides everything that I want which is- fire breathing power, handling, 2 sunroofs, Tiptronic gearbox, big huge hatchback boot(for my dog), good looking. What do you guys think? C36, Airtrek Turbo R or Evo 7 GTA?? Please share your opinions with me.