Here's a lil sumthin I did for the car I call Mac Daddy. Hehe. It's a July 2007, Mercedes C200K. Was actually waiting for warranty period to finish b4 I start modding it but the tires were balding so I needed new tires n I guessed what the heck, might as well start now. I did this over the past 1 month. I'll post it up in the different stages like what I do for my PC case mods.
This was when everything was totally stock with almost bald tires.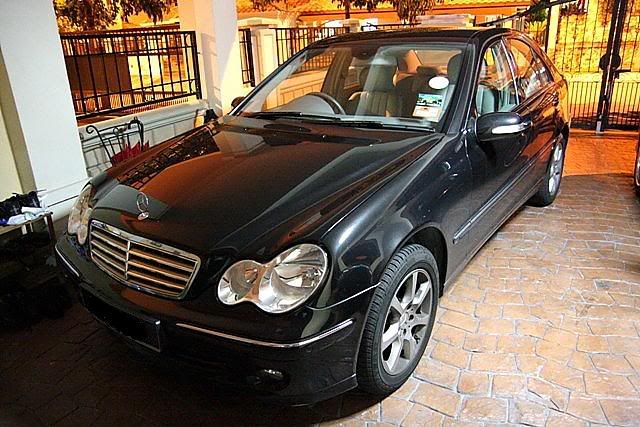 1st thing I did was get rid of the old man Star on top of the bonnet n changed it to a flat emblem. Then did a 80% pimp tint.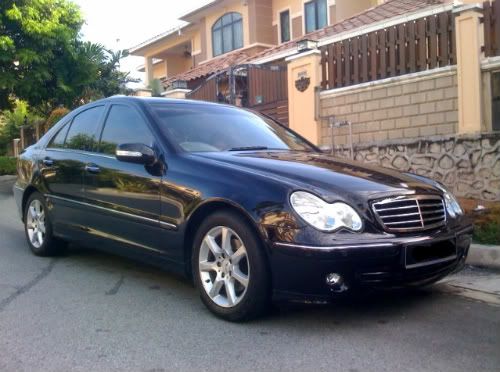 Next up was the suspension. Stock Merc Elegance suspension is like a boat. Extremely soft n tall. My wife always complains about how she gets motion sickness in it. So everytime we go on mountain roads she will insist I take the Toyota Wish which has TRD suspension. She rather not suffer sea sickness in the Merc. So................ off goes the suspension n Eibach here I come. So much better now. Feels like a totally different car now n looks a whole lot better too.
I actually like the original wheels on this car. All my other cars, 1st thing I do is get rid of stock wheel coz they're so uglyyyyyyyyyyy. But these wheels r actually pretty nice. Just a lil small at 16". So I decided to paint them gun metal grey to see how it looks like n if I like them enough to keep permanently. I reckon they looked pretty good in gun metal grey eh? This pic was taken at Speedworks HQ while I was doing the K&N intake. The K&N unleashed a very nice supercharger whine on WOT. Stock paper filter was rather quiet n not much fun. Hehe.
I was debating whether to paint the original radiator grille matt black or just change to the new style CL grille. I succumbed to the beauty of the CL grill in the end. It was just too gorgeous to resist. After that I went to an empty Ikea basement carpark for some quick pics.
In the end, I just couldn't accept the 16" wheels n decided to get some big huge wheels. I thought of going up to 19" but then the rear tires would have to be 265/30/19. I don't like the idea of running around on 30 series tires in Malaysia with all the potholes around. So I decided to go 18". I went to my favorite tire shop called Hup Shun in Sunway to have a look see. This is the only tire shop I go to as I totally trust the guy to give me perfect fitments n installation. All my cars are done exclusively by them. Been going there for about 16 years now. Anyway. I saw 2 types of wheels that caught my fancy. Tried them on to see which 1 like.
I really liked the black center section of this wheel but I dont really like the design of the cross spokes.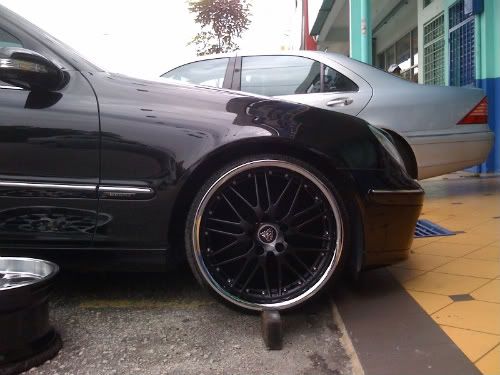 Then I saw these lovely BBS RS-GT wheels with just the perfect cross spoke design I was looking for. Problem is that it doesn't come with black center section. :(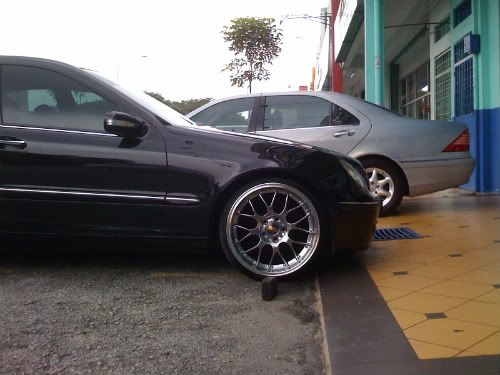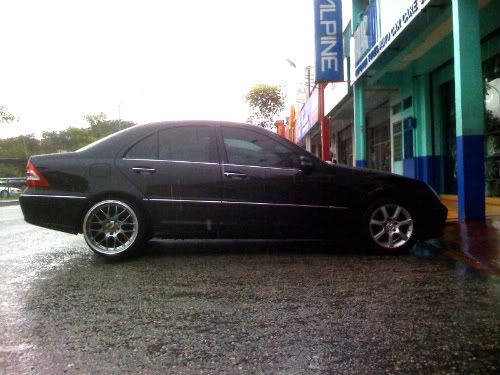 So which set of wheels do u guys reckon I got? Take a guess n find out in the next installment of Project Mac Daddy. I've completed everything I set out to do. Just need to give the car a good wash n do a nice photo session to reveal all. Stay tuned.............
Next page-
Mac Daddy part 2