This is something I've been enjoying with my kids for the past 2 weeks. It's an amazing deal from Delifrance. The spaghetti meals usually cost rm16 but during this promotional period they only cost rm6! You can choose from the 3 available types of spaghetti- Beef Bolognaise, Chicken Bolognaise or Chicken Forestiere. All 3 flavors are nice. We like them all and we're certainly going to take advantage of this promo till the end of this month. I proclaim this to be the month of Pasta. Hehe.
Here's the promotional leaflet.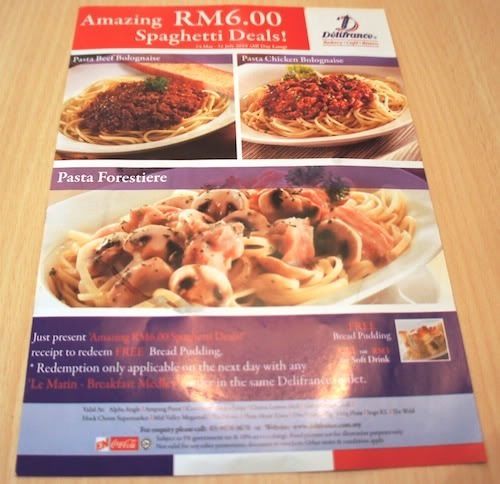 Here's the Pasta Beef Bolognaise I had today. Don't expect 5 star hotel style presentation. It's quite sloppily presented but it tastes good and most importantly, it's damn cheap. Haha.