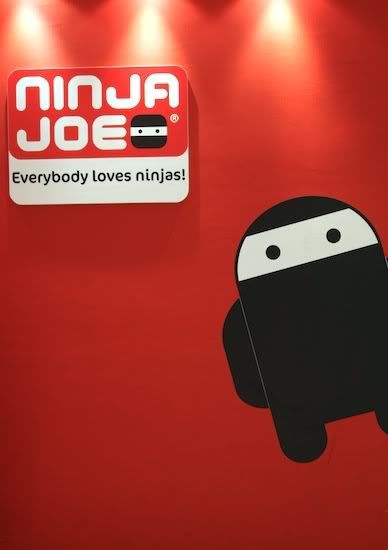 1st of all, sorry to my Muslim friends ya, this is a non halal posting. Hehe. This burger is sooooooooooooooooooo delicious............. I just have to write about it and share with my non Muslim friends.
It's called Ninja Joe Burger. I think it's the only restaurant as I've never seen it anywhere else except in Tropicana City Mall. I was just walking around when I saw it and decided to give it a go. Boy oh boy, I'm so glad I tried it. It's so deeeeeeeeeeeeeeeelicious!!!!!
Anyway, this is how the restaurant looks like. It's got a very Japanese kinda feel to it.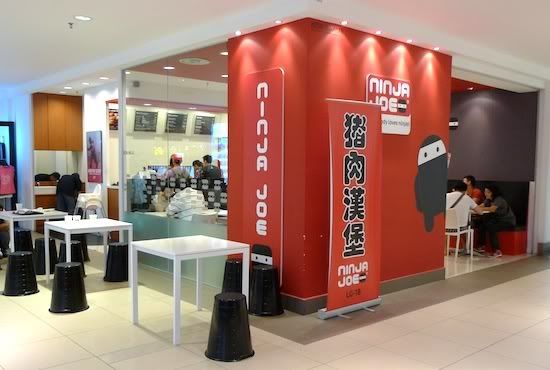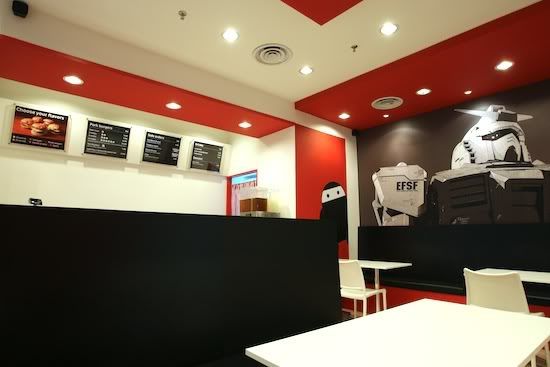 Here's something you'll see at the cashier counter. It's a description of their product. I really appreciate that no "spare parts" are used in my burger. LOL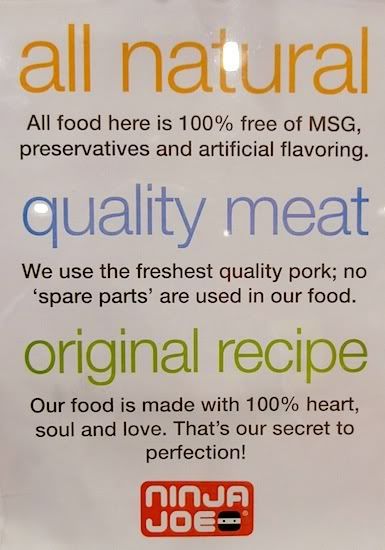 I ordered a 6 pack which is the cheapest combination at rm23.90. A single burger costs rm5.50. I also added on 2 pax of drink and fries for only rm3.50 each. There are 6 flavors to choose from. Original, Teriyaki, Oriental, Sweet&Sour, Black Pepper and Spicy. I liked Teriyaki, Oriental, Sweet&Sour and Black Pepper. The Spicy burger is really lame, the sauce is the kinda chili sauce you get with the typical chicken rice. See how small the burgers are? They're biscuit sized burgers in White Castle Burger style. Anyone remember White Castle? They went bust in Malaysia a long time ago but anyone who's been/from overseas will surely know about White Castle Burgers.
The burger doesn't look like much in this picture, I can assure you it tastes superb though. Hehe.
Big fat crinkle style fries just the way I like it. I hate those McDonald's skinny fries. The Ninja fries come out fresh from the hot pot of oil and it really is steaming hot. Awesome fries I tell you. I looooooooove it.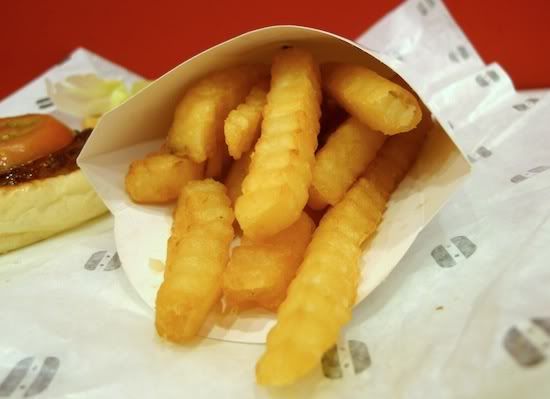 The aftermath. Haha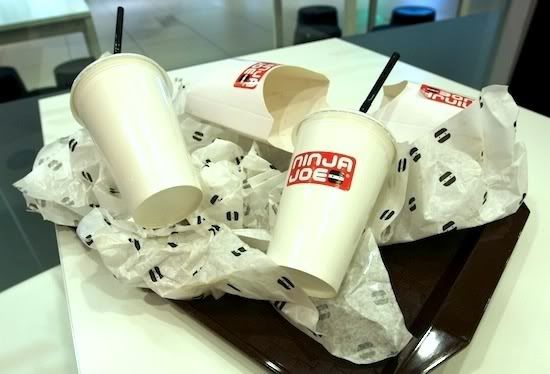 All you non Muslim burger lovers, go and try it now. It's deeeeeeeeeeelicious!!!!!