This article is a lil bit late coz I've been really sick with flu. The weather's been terrible of late. 36C temps in the day and then heavy monsoon rains in the afternoons and evenings. I'm finally feeling good enough to write again. Hehe.
Anyway, this PC Fair was held on 10-12th of April. I've been bugging Silverstone to get a nice booth all these years. I hated how badly the KL PC Fair has degenerated over the years. I so wanted to help them put on a good show for the masses but they never got down to getting the booth. My Project King Kong rig has been waiting to attend the PC Fair for 2+ years. King Kong was feeling pretty desperate already as he had almost given up hope of gracing the PC Fair with his attendance. Hehehe.
From out of the blue, my sponsor calls me up in early April to tell me they finally got a booth at the PC Fair. I was elated. Happy beyond words. I've wanted to do this with Silverstone for sooooooooooo long that I'd actually given up hope. In fact, I stopped going to the PC Fair for the past 2 years as it's sooooo boring with nothing to get excited about. It's always the usual car boot sales atmosphere where the booths are just trying to make as much money as they can during the 3 day PC Fair.
So, I got down to doing some final prep and touch up works to the rig as I've been using it for 2+ years and it was not in pristine condition. I managed to get everything done very late on Thursday night. I was all ready to send King Kong over to the PC Fair when I received the sad news about my godfather passing away on that Friday. So I called my sponsor to cancel the plans for Friday and that I will be there on Saturday and Sunday. Those of you who went to the PC Fair on Friday, looking for King Kong, my sincere apologies.
Anyway, Marcus the handsome dude from Inter-Asia(the sole distributor for Silverstone in Malaysia) came over to my house early on Saturday morning to pick up the case so that everything could be set up nicely before the PC Fair starts at 11am. I arrived at the booth at about 3pm and was pleasantly surprised to see the best looking booth I've ever seen at any PC Fair all these years. I'm really happy that Inter-Asia went all out to put on a good show.
Here's some pictures of the booth when I got there at 3pm. It was packed with a gazillion people, like sardines in a can! Thank heavens I got this all access pass from Marcus. This pass was heaven sent. Without it, it would have taken me 10 hours to navigate through the human traffic jam. LOL.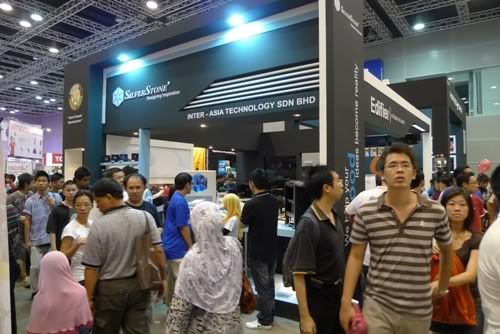 Inter-Asia is also the Sole Distributor for Edifier and Steelseries.
First thing I did was to go over and thank Marcus for bringing King Kong over. But he was camera shy and didn't wanna appear in my blog so he went into hiding. LOL. Marcus, if you're reading this, big thanks to you ya. I really appreciated your effort. It allowed me to catch up on some much needed sleep on Saturday morning. Here's Marcus the handsome dude. Hehehe
I then proceeded to go find "DA MAN", the superstar. He's the one responsible for making this event happen. My first question to him was "Sooooooo, how's the public's response to your superb booth?". You know what his response was? There was no need for words, all I got was this big huge grin.
Let's get on to my contribution at the booth. This is called Project King Kong. It's a rig I built using the Silverstone TJ07 case. It was built for a LAN party organised by Silverstone and Inter-Asia 2 years back. I've since made some adjustments and mods to it. Here it is in it's final shape. I will post the worklog of the whole build process involved in making King Kong in the next article.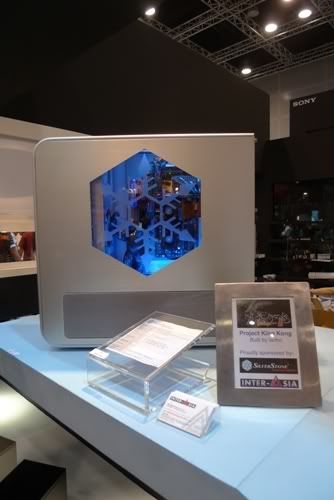 Here's a whole row of beauties from Silverstone.
The latest beauty to come out of the Silverstone factory. The Raven RV01.
Here's one I really liked. The new Sugo 05. A puny lil thing that fits in the palm of your hand.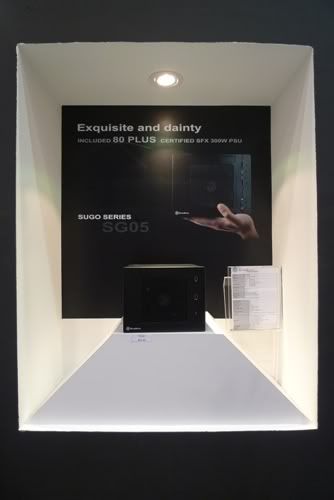 This concludes my report of the KL PC Fair. Here's looking forward to bigger and better shows from Silverstone and Inter-Asia. Bravo guys, you have brought back some excitement to the PC Fair at last.