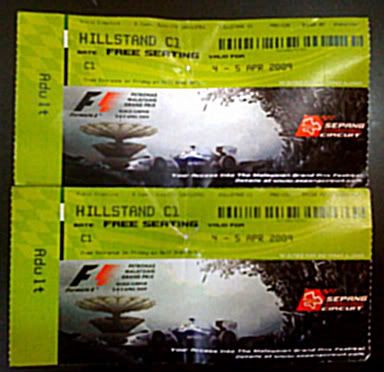 Phewwwwwwwww what a weekend it has been. I left my house 2 hours before the race which was scheduled to start at 5pm, Sunday. I've been doing this for a few years now and 2 hours was always more than enough to get there in time for some shopping before the race starts.
This time it was total chaos. I reached the main road outside the Sepang track at 4.15pm. Well ahead of schedule but then disaster struck. The whole area was jammed up and nobody was moving. I only found out why when I finally got into the actual parking area called PA2 which cost me rm50. The whole place had turned into a mud field. The parking area used to be an oil palm estate and the whole ground was totally waterlogged. Cars were stuck in the mud everywhere hence the massive traffic jam. People just couldn't get into the parking lots. The Sepang F1 management really should have laid down a gravel surface many years ago. They have not done this even after 11 years of hosting F1!!!!
People were getting stuck in the mud due mostly to stupid driving really. They were using hi revs and spinning the tires intead of taking it easy. I have to admit it was pretty difficult to drive on the mud though. I selected 2nd gear manually and had the aid of traction control, yet I almost got stuck at a particularly steep part of the slope. My big fat 255/35/18 rear tires didn't make life any easier. Muddy terrain needs skinny tires to cut through the mud and dig into the harder stuff beneath for traction. My big fat tires were practically floating on the surface of the mud. It was the same as driving on ice and snow actually. I got into trouble when I had to stop completely on a particularly muddy patch that was sloping steeply to the left. When it was time to move, I moved off slowly so I wouldn't spin the tires and dig into the mud but there was simply no traction at all. Intead of going up the hill, I was sliding down sideways towards the left and there was a row of cars there. My car slid to within 2 feet of the car on the left when I decided to stop or else I was gonna hit that car. I asked the 2 guys behind me to help give me a push just to get some forward motion going so I can climb up that slope without sliding sideways again. Thank god they were sensible enough to help out or all of us would have been stuck there. I didn't get their names as everyone was getting impatient to move on. Anyway, just in case you're reading this, I just wanna say thanks to the guy in the Toyota Harrier and Toyota Celica.
Anyway, after what seemed like an eternity, my wife and I finally got to sit down at the hillstand at about 5.45pm. We saw the cars go round for about 5 minutes and the heavens opened up. It was almost as if a dam had broken right above our heads. There was lightning everywhere too. Absolutely terrifying if you ask me. I got up and positioned ourselves lower down the hillstand and away from the light and radio poles, trees and all tall structures as I was worried the lightning would fry us. LOL. After that it was just a loooooooooooooooooooong wait for the restart.
We sat there in the heavy rain with nothing to do. Then the crowd erupted in cheers and laughter. There was a naked Finnish guy running around with the flag of Finland on the hillstand! He fell and slid down the wet slippery slope a few times too. I'm quite surprised that the live telecast crew missed out on this. It was a most welcome relieve from all that boredom. LOL. After that funny episode with the naked man, some european girls decided to organise a Mexican Wave and the whole C2 Hillstand turned into a giant wave. Seeing all the activity over at C2, the people on my side of the slope called C1 decided to have some activities of our own. A few european guys started wrapping themselves up in plastic sheets and started sliding down the slope. A few other people joined in and we all had a good laugh. All the fun and games lasted about 1 hour before we heard the dreaded news that the race will not be restarted. Daaaaaaaaaaaaaaaaaaaaaamn, we were all so dissapointed. Lucky for us, there was so much fun and laughter on our part of the hillstands. LOL.
After spending all that time and money, we only got to watch 5 minutes of F1! :( BUT............ not to worry, there was the concert by none other than Jamiroquai. We proceeded on the long walk(about 20 minutes) back to the main gates of Sepang and was told that the concert would be held outdoors at the top of a hill overlooking the main gates. We figured it would take us about 10 minutes. How wrong! It was as if we were trekking through a Vietnamese rice field bombarded by B52 bombers. My wife and I looked like rice farmers covered in mud by the time we got up the hill. LOL. It was an absolute nightmare! It took us an hour to get to the gate where the concert was being held. Another nightmare started there, they had a small little puny gate to check on F1 ticket holders as they didnt want outsiders getting a free concert. It was hell with about 20-30,000 people squeezing through that lil gate. If you were to ask me what Hell is now, I wouldn't describe it as a fiery place in the belly of middle earth. I'd just say Hell is where Sepang F1 is. LOL. Come on Sepang F1, you really need to buck up, you guys really should be a lot better at managing 100,000+ people after 11 years of F1.
Okayyyyyyy..............after all that trek through hell, it was time to have some fun. Luckily for us it was a fantastic concert. I'd estimate about 30,000 people there at least. We were all standing out in the rain waiting impatiently for Jay to appear. The concert started with some local acts. Then a foreign group called Naturally 7 came out and they were awesome. Naturally 7 doesn't use any instruments at all, just their mouths. Each of them had a specialty like bass, guitar and so on. You guys really should check them out if you've never heard of them.
Here's Naturally 7. Sorry for the poor pics, I knew the weather was gonna be horrible and decided not to bring out my nice cameras. All pics were taken with my iPhone.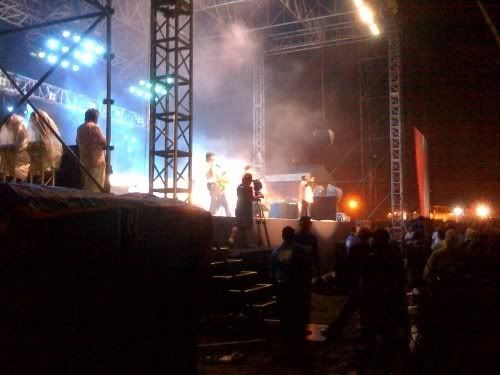 Finally, Jay appeared behind the stage and started on his warm up routine. Here he is doing some warm up stretches.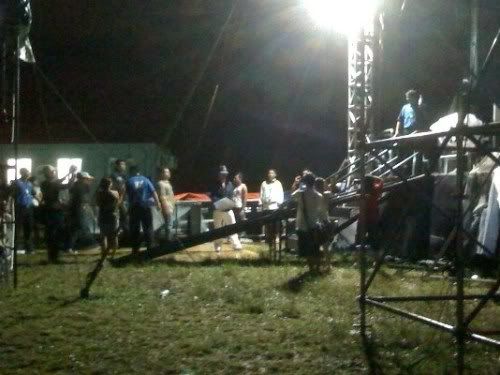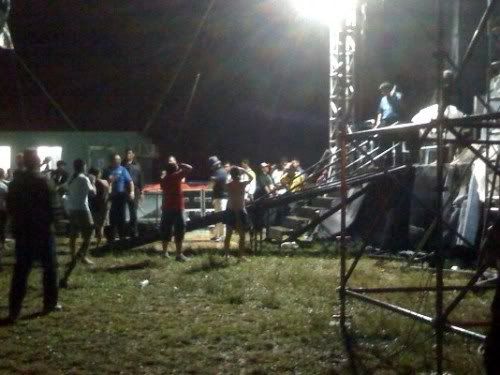 Jay singing and dancing, showing off his trademark high energy dance moves. This old man can dance I tell you. He absolutely rocks. Fortunately for him it was a cold, windy, rainy night. He was telling us how hot and dehydrated he was between the songs. If it had been a typical hot, humid night, he might have passed out. LOL.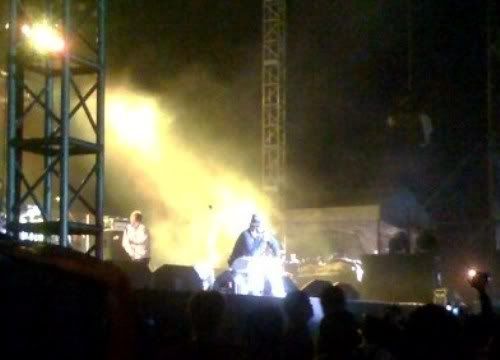 All in, I'd say it was a most entertaining day out for my wife and I. Even with all the aggro of being late for the race, the mud fields, the rain and electrical storm, the near stampede conditions, I reckon it was all worth it thanks to the Jamiroquai concert. Jay really saved the day for us.
We left the concert at about 11pm as we could feel Jay was already tiring and was about to wind down the concert. We wanted to leave a lil earlier to avoid the stampeding crowds through the mud fields again. Took about 30 minutes to walk to the car. PA2 parking area is just next to the concert area and it should have taken no more than 5 minutes in the dry. BUT.............that crazy mud field is just absolutely ridiculous to walk on. Luckily I had a few bottles of water in the car for washing up or else the interior of my car would have turned into a clay interior. All that nice supple grey leather would have turned into a brown color clay. LOL. Anyway, after getting into the car it was just a 45 minute drive home on the highway. Home sweet home.......................... NOT!
Why NOT? Coz, this is the sight that greeted me this morning. My looooooooovely car looked as if it had gone through the Paris Dakar Rally. :( Just look at the carnage. Thick, caked on mud everywhere. It not only looked like shit, it literally smelled like shit too. Boy oh boy was I gonna have fun detailing it back to it's shining glory.
Look at my poor darling.............................. :(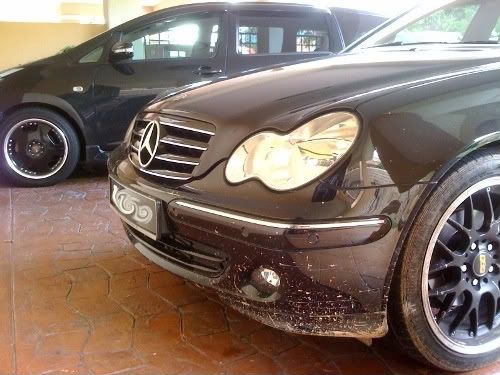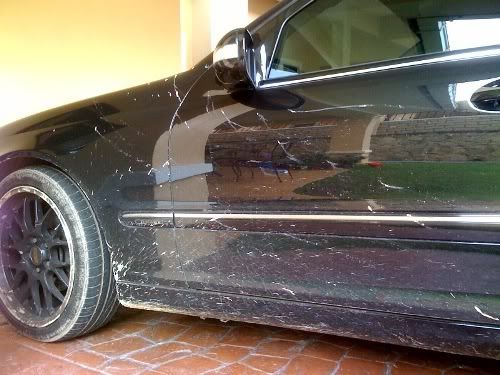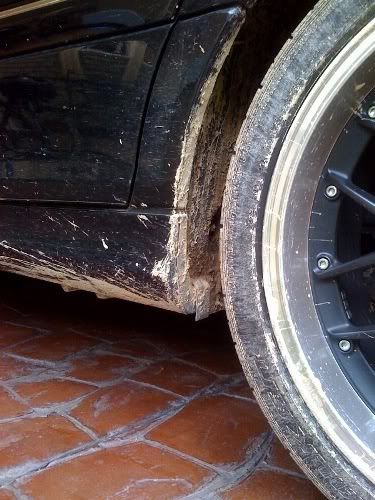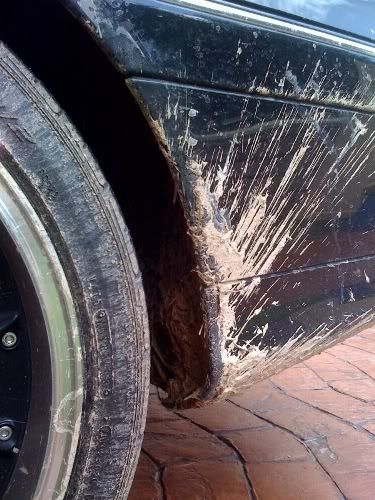 Luckily I have this in the garage. :)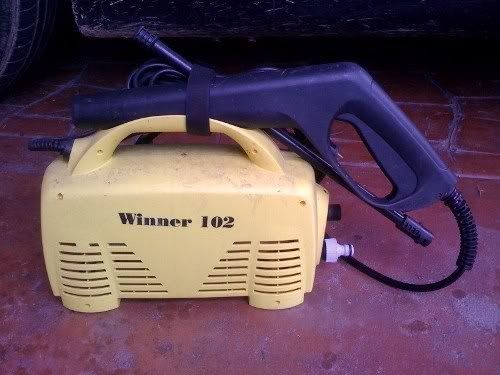 10 minutes later all the mud was off and the car was free of Sepang's shitty mud. LOL. I still have to give it a proper shampoo wash and polish tomorrow though. All I did was spray off the mud today. Will need to wash the interior too. Lotsa mud inside even after trying wash off as much mud as we could with the 2 bottles of water we had, before getting into the car.
What an adventure it was. As usual, after all that we had gone through, my wife proclaimed "I AM NOT GOING TO SEPANG F1 WITH YOU EVER AGAIN!!!!". She says this every year. Not to worry...................... I'll charm her into going back to "Hell" with me again next year. LOL. See you again next year Sepang F1.