Went shopping today. Dropped by my favorite camera store for some fun. Thought of buying an EOS 1D MkIIn for my daughter as she has been complaining that the 450D cannot keep up with her school photographic activities. She's the school OP and does all the events including sports events. Saw a good condition 1D MkIIn going for cheap and decided to try it out. I was impressed with the 8.5FPS and the 45 AF points and my daughter tried it out too. She was grinning and drooling, hoping I'd buy it for her.
Then my my wife asked the shopkeeper which model is the latest and greatest and he replied "1D MkIV". My wife then suggested that I get the 1D MkIV as she prefers that I get the latest and greatest every time we go shopping. I'm such a lucky guy to have a wife like that. I loooooooooooooove her dearly, she is the ultimate gadget freak's wife. Hehehe.
I was kinda keen to get the 1D MkIV too but I really didn't need the new features like the HD video and all since I already have the 5D MkII for that. Well, it's got 6mp more, much higher ISO and a few more AF cross points but my 5D MkII already has superb high ISO and 21mp. Only big difference is the extra AF cross points. I could live with the 19 cross points on the 1D MkIII and it's cheaper too. So I asked to try out the 1D MkIII. As soon as I tried out the 10FPS, I was in loooooooooooooooooooooooove. It's like a machine gun!!!!! I just had to have it and told the shop keeper it's a done deal. Asked him for a slight discount and he agreed. So here's my new Canon EOS Machine Gun along with a new SD card and multi card reader from Sandisk.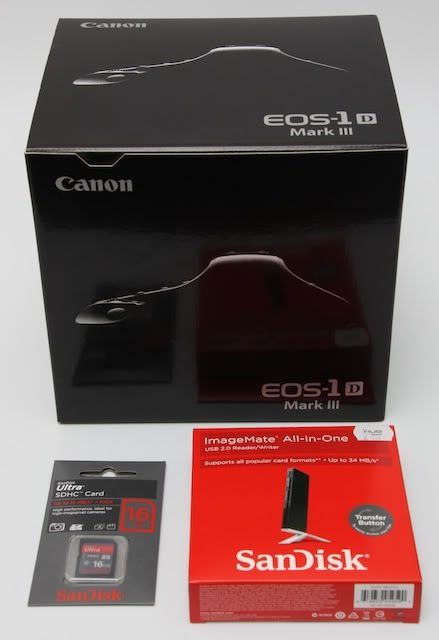 Went out to buy a 1D MkIIn for my daughter and ended up with a 1D MkIII. Haha. I may just end up using it more than my daughter.