I've been a Canon CPS member for a while now. Here's how the CPS member's card looks like.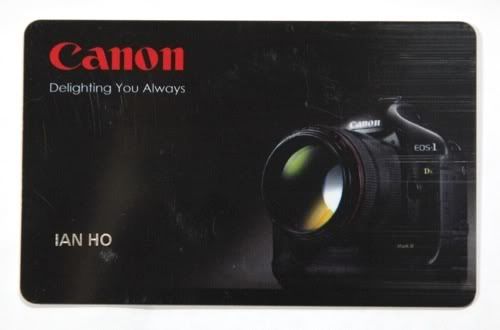 I haven't used the privileges until today. Had some specks of dirt in the viewfinder of 1 of my cameras. I also wanted them to calibrate my 17-40L to see if my own AF Microadjustment was spot on. The CPS service is simply brilliant. There is a service counter just for CPS members. We don't have to take a number and wait in line. Thank god for that, there was a long line of people waiting their turn, over at the normal customer service center. I just walked up to the CPS counter and the staff attended to me immediately. After leaving the camera with them, I proceeded to the CPS Lounge to chill and wait for my camera to be cleaned and calibrated.
I was most impressed by the CPS Lounge. It's an enclosed VIP room just for CPS members. I had to swipe my CPS card over the security keypad to open the door. Once inside, it felt like home. Everything is nice and comfy. I wouldn't mind waiting in there all day if I had to. Hehe. Here's a picture of the CPS Lounge.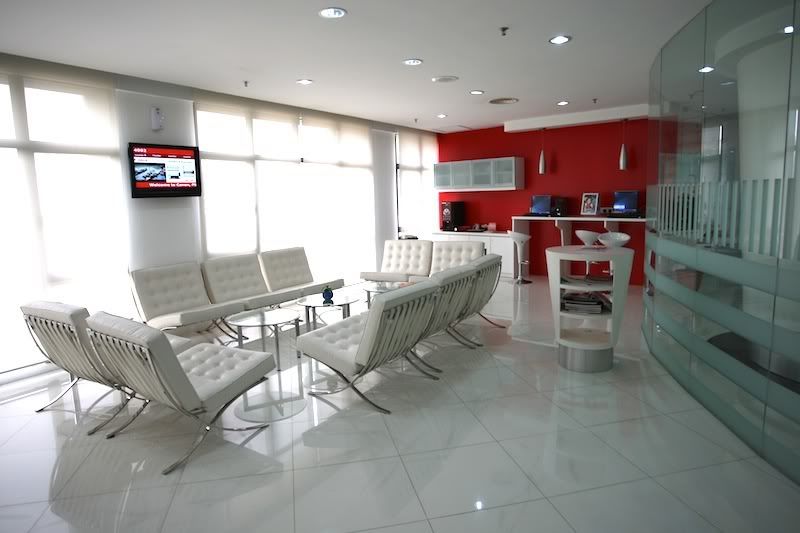 Aaaaaaaaah the luxuries of being a VIP. Nothing like a wee bit of VIP service eh?. Life Is Good! Hehehe. Right at the other end of the room is a drinks machine that serves coffee, hot chocolate, tea, etc etc etc. There's lotsa nice food there too. There was a nice selection of donuts, curry puffs, spring rolls and a few other things. They also provide 2 computers to keep us entertained while waiting. I guess you could catch up with some office work at the computer but I'm a lazy fella, so all I did was surf the internet, lounge around the sofa, had some coffee and food. Haha. I also asked for some reading material and here's what the nice lady provided. I was handed 4 copies of the DCM/Mook EOS 40D Guide Book but I took only 3. 1 for myself and the other 2 for my friends. There's also a few other interesting books there, all for me to keep.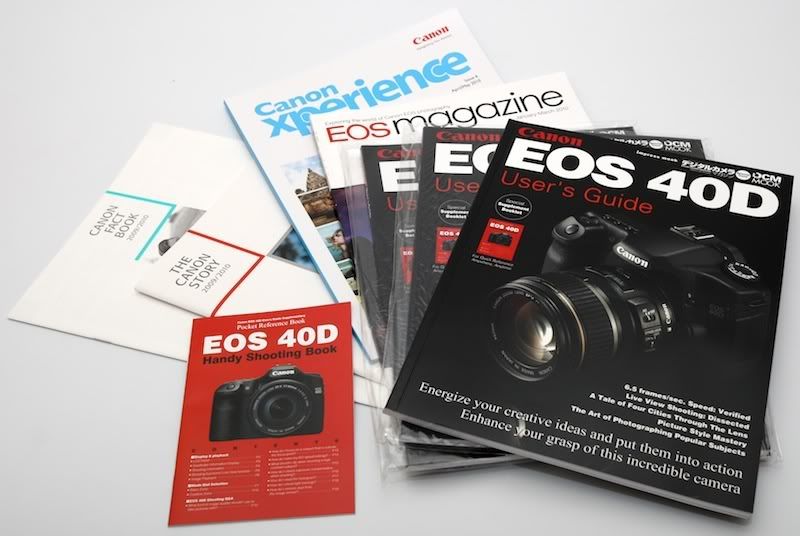 My wife and 3 kids were with me. Most times, they would go berserk if I make them wait with me at service centers coz it's just sooooooooo boring. The fact that my wife and 3 kids were having a blast in there shows just how good the service is. Nice comfy room, good food, nice drinks, computers with internet access and comfy sofas make for a supremely pleasant experience. Just 20+ minutes later, the lady brought my camera to the room for me to inspect it and make sure I'm happy with the service and everything. Can you say F.A.S.T? It took a mere 30 minutes from the time I stepped into the Canon Service Center to the lady bringing my camera back to the CPS Lounge, all cleaned up and calibrated. They gave the camera and lens a good wipe down too. I've never seen my camera and lens this clean and shiny except for the day I brought them home.
A most wonderful experience. I now call it my Camera Spa. Haha. My wife and kids said they wanna tag along when I go to the Camera Spa again. It's gonna be soon as I have another, rather dirty 5D MkII covered in lotsa dust and mud from the last assignment. Big thumbs up to Canon Malaysia for a most excellent CPS.