Built in 1895, destroyed in 2010, 115 years of history GONE. This jail is such a big part of Kuala Lumpur's soul. It is right smack in the middle of Kuala Lumpur and most tourists will take a walk there to have a look at this infamous landmark. Now it's gone because of a few greedy people and politicians who wanna make a quick buck. One of the so called big shots even said "Pudu Prison is not something that should be made a national heritage", "for a historical building to pass 'the heritage test,' it must have significance and contributed to the welfare of society".
Pudu Jail can so easily be turned into a proper tourist spot with proper management like Alcatraz prison in San Fransisco. Alcatraz is a historic site operated by the National Park Service as part of the Golden Gate National Recreation Area. Only a so called Malaysian big shot would say that a 115 year old prison is not a historical site. Such clever leaders we have.:( If a prison doesn't contribute to the welfare of society then what does? It keeps the bad people away from the general population for god's sake, how does that not qualify as a contribution to society????
What are they gonna put on top of that big precious plot of land? Even the dumbest person would guess correctly, a big huge shopping mall and condominium. It's all about the money isn't it? Anyway, who in their right mind is gonna wanna invest in a shop lot there or worse still, live in the condominium. That place has witnessed the execution by hanging, of society's worst and most hardened criminals. I'm sure many have also passed away while incarcerated too. Would you wanna live on a plot of land that has been home to all those deaths? I certainly wouldn't, out of respect for those tortured souls and also out of fear. LOL.
Anyway, I better stop writing about the political side of the story for fear of Malaysia's ISA(Internal Security Act). I don't wanna end up in the new prison in Sg Buloh. LOL. I'll just post up the pictures I took of Pudu Jail on it's last night before the demolition men came along at 10pm on 21st June 2010.
I arrived at about 7pm to witness Pudu Jail's last moments. These are pictures of the area while it was still quiet and peaceful before the chaotic crowds arrived at about 10pm to witness the demolition men at work.
Some people appeasing the poor tortured souls.
Main gate of the prison with a full moon over it. Spoooooooky!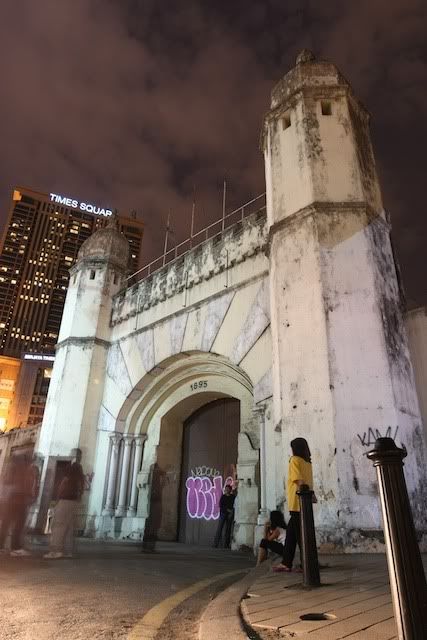 Graffiti on top of the former "World's Longest Painting".
Perimeter wall.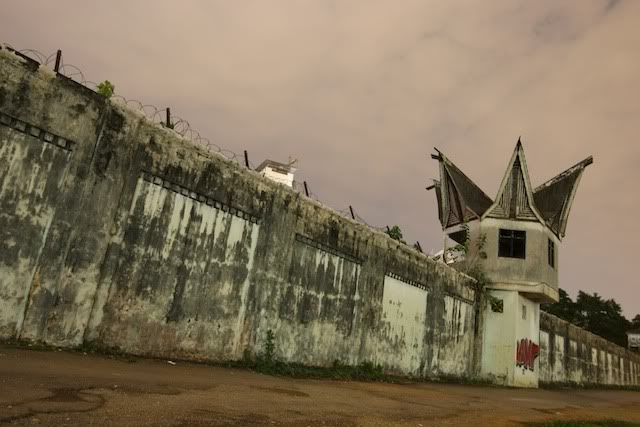 More graffiti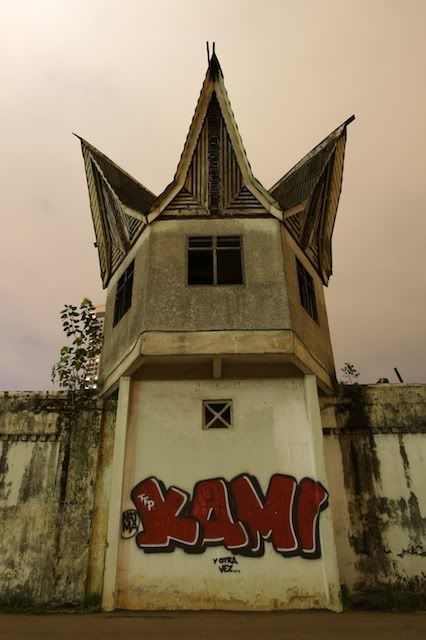 Grim reminder of Malaysia's tough stance on drug trafficking. Translated into English, it says "You will die by hanging! An unfortunate thing for your family as that is the only punishment for anyone caught trafficking drugs in Malaysia".
It's getting nearer to 10pm and thousands of people have turned up suddenly.
They even managed to climb to the top of the main gate.
Chaos!!!!!!!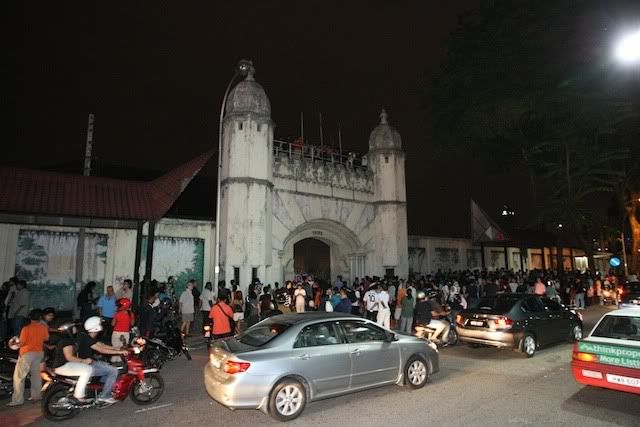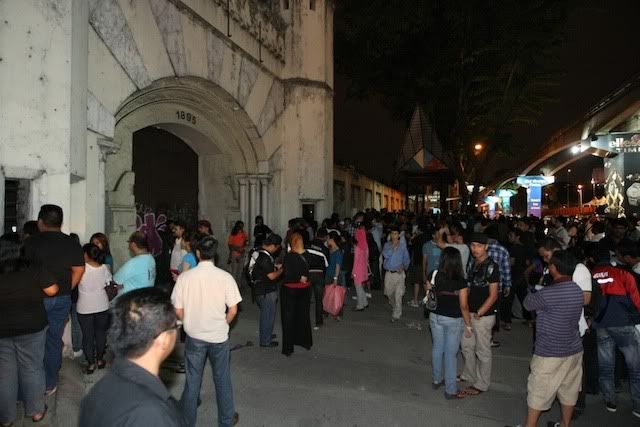 Traffic and crowd control police at work.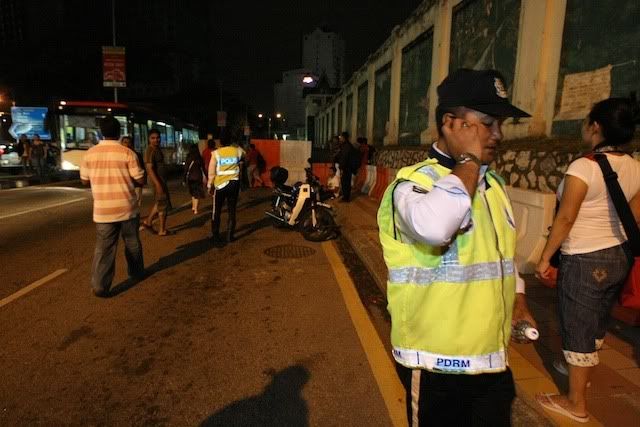 One of the demolition men taking a cigarette break.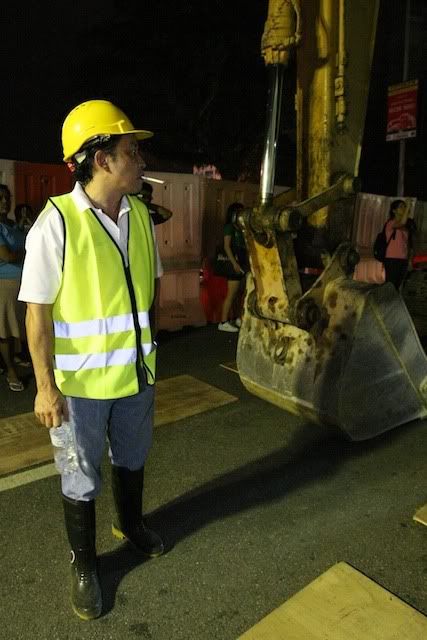 After I told him to stop smoking for safety's sake. I got a "sorry boss" and a big smile. LOL
Part of the wall that was demolished before the news crews and crowds arrived.
Guard tower as seen from within the broken wall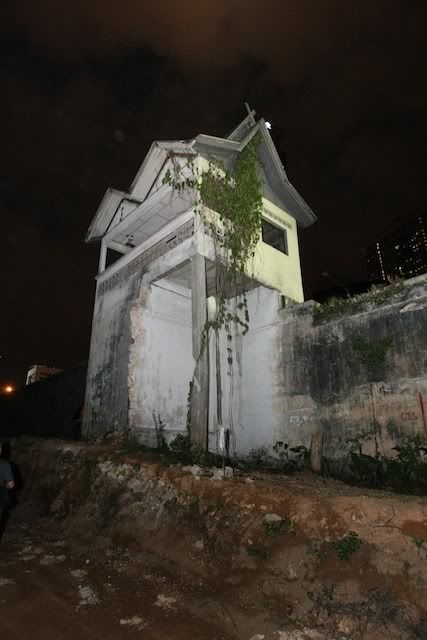 The site office??? Haha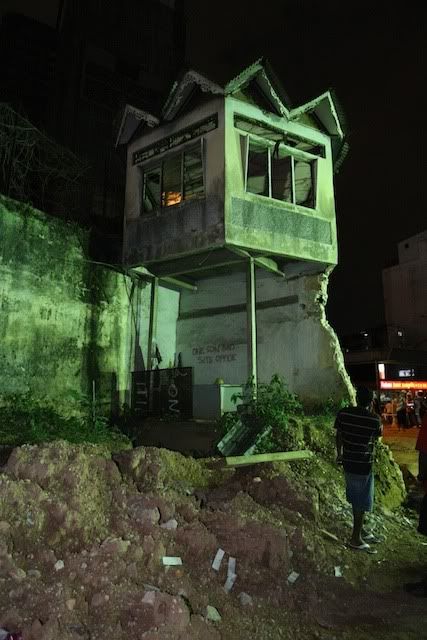 A demolition man. Proud of his work.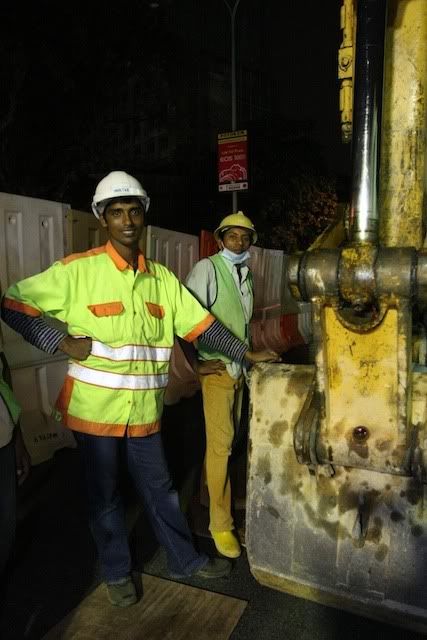 The supervisors
In deep discussion
TV3 crew at work
Carnage! History in a million pieces!
Machine of Mass Destruction.
The last minutes of Pudu Jail.
The Machine of Mass Destruction is about to let rip.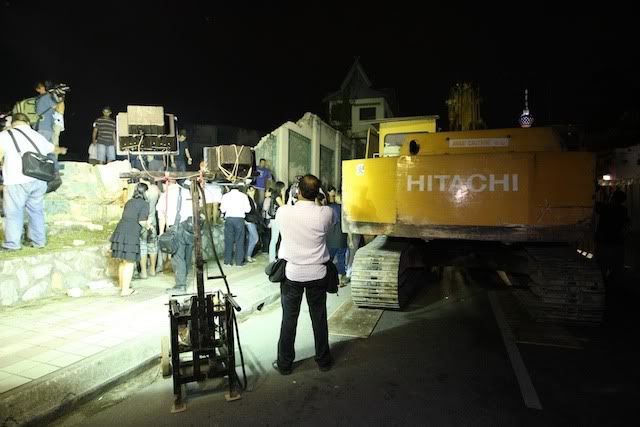 Pudu Jail, R.I.P