I've always wanted a Mac. Problem is........ I'm a gamer at heart and the Mac is no good at it. Or else I would have bought a Mac a looooooong time ago. I'm a big fan of Apple and love everything Apple. I've got a few iPods, iPhone, 30" Apple Cinema Display and 20" Apple Cinema Display. Only thing missing is an actual Mac computer. So here it is at long last.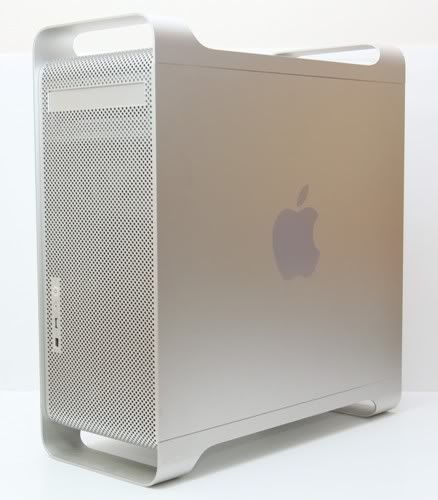 I found a really good deal recently and brought this beauty home. It's a Powermac G5. I know it's not the latest tech and all but it suits my purpose well. It will be used only for internet duties and picture editing. I will be setting this up as a 2nd computer at my workstation. I needed to set this up as my PC is always being stripped down for new parts installs and also parts reviews. So the new set up with the Mac will allow me to continue working while my PC is being worked on. I don't like working on the laptop as I'm so used to my huge 30" LCD. Working on the small laptop screen takes me ages with the photo editing and stuff.
While I was setting up the new workstation, I needed to upgrade the Mac with some new RAM and a bigger, faster HDD. I bought some other stuff too, while shopping for the RAM and HDD. I also just received the Swiftech H20 kit to replace my previous kit that was damaged at the recent PC Fair. While shopping, I was shocked at how cheap LCDs have become. I didn't realise just how ridiculously cheap they've become and decided that I needed a new 24" LCD simply because it was so cheap. LOL. Anyway, here's the stuff I just got.
After spending a few days refurbishing the Mac and setting up my new workstation, it's almost done. Still a lil messy and lots of work left to do with the wire management. I'm happy with it for now as the PC has already been removed and I'm still able to do my work with the Mac installed and running. Here's a pic of the messy workstation for now.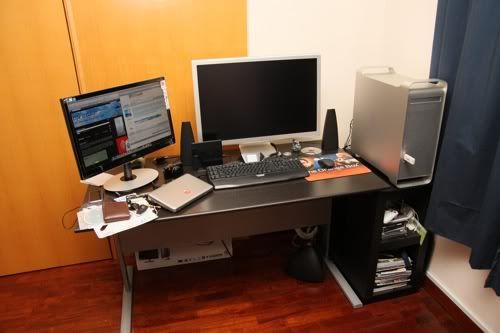 Well, I'm a happy man right now. The Powermac G5 is running like a dream and I'm still learning my way around Mac OSX but so far I'm loving it. Mac OSX Leopard really rocks! Microsoft really needs to learn a thing or two from Apple's OS. That new 24" LCD I just bought is pretty awesome too. So much LCD for so little money! I'll be doing a photo shoot and quick run through of the new LCD later on so be sure to come back and check it out if you're interested in the AOC 2434PW.