Yay! I ordered these t-shirts last week. Waited impatiently for them to arrive and they're finally here. The white T has a EOS 5D MkII and the black T has a 70-200 f2.8L lens printed on it. Some really useful stuff to keep me close to my darlings when we are apart. I cannot bear to be away from them for too long. :)
I've been looking for the white T with the 1D MkIII on it but Canon tells me they stopped making them a long time ago. So I ordered these custom printed t-shirts instead. I like these even more as I actually own the stuff, rather than the 1D MkIII which I don't. Hehe.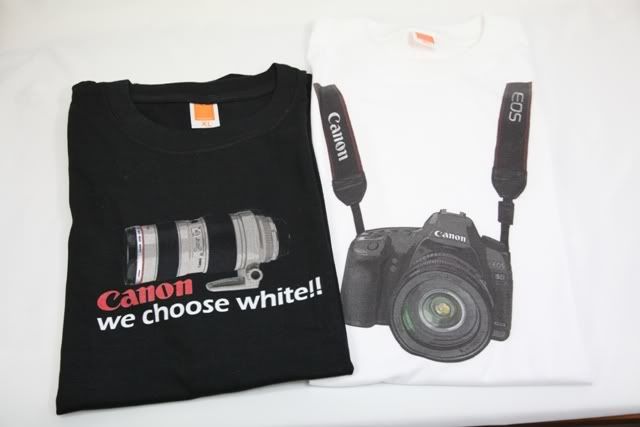 Here's a closer look at the 5D MkII t-shirt to show the nice print. The resolution of the print is pretty good I have to say. The thing that disappoints me is the missing 5D MkII font after the EOS word on the strap. :( The quality of the cotton isn't very good either, which is disappointing as the t-shirts weren't cheap at rm55 a pop. I expected much better quality than this. I was hoping for at least Hanes quality. Oh well, they're here and I like them very much regardless of the quality so I'll just enjoy wearing them. Hehe.