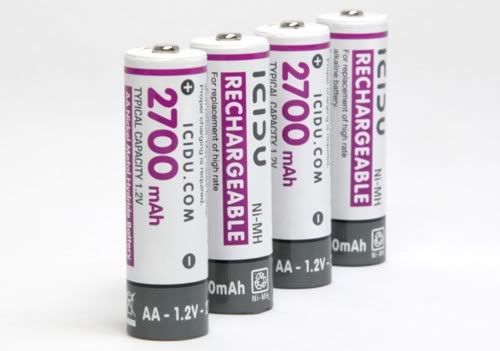 Just bought these for my Canon 580EXII flash. It's sorta like a housebrand thing where they sell good stuff at very low prices as they don't spend any money on fancy packaging and advertising. The brand is ICIDU. The batteries are rated at 2700mah which should be good for my 580EXII flash.
I was looking for Sanyo Eneloop but for some reason they are not available at the shops now. I don't wanna buy from the online dealers as I prefer to buy from shops with warranties. Then I was looking at some Sony Energy Cycles which looked interesting. Pretty cheap too at rm88 for a pack of 4 AAs including a charger. They also sell them in 2s. A package of 2 Energy Cycle AAs costs rm39 so 4 of them would cost rm78. It's kinda like paying just rm10 more for the charger. These batteries supposedly retain about 80% of the charge even after 1 year. I was about to grab it when I saw these ICIDU branded batteries for only rm47. I decided to give it a try since it's so ridiculously cheap.
My other set of 4 AAs currently in the 580EXII now is also some generic brand called Konnoc. Those were even cheaper. I bought them last year for only rm59 including a charger! It's served me well until now. Just one of those rare times when cheap stuff work just as well if not better than branded stuff. I actually had a set of Energizer and also Fuji brand batteries fail on me after only 6 months. So I'd say the Konnoc batteries have been exemplary.
Well, the ICIDU batteries have just been fully charged and I'll be trying them out in the 580EXII over the next few days. Let's hope they work just as well as the Konnoc batteries.