My recently purchased Mini 2133 had a failing battery. I used to get 2 hours on a full charge when I bought it last month. These past few days it dropped to about 1 hour on a full charge. Anyway, I called the support center and they told me to take it to the HP service center for an exchange. I expected them to give me all kinds of excuses like, "you're charging it wrongly" or "your power profiles are sucking a lot of battery life" and so on.
Anyway, I went to the HP Tower building and was immediately impressed. There was ample parking and all were reserved for service center customers. Most impressive!
The parking lots are right in front of the service center entrance. I turned around after parking my car and there it was.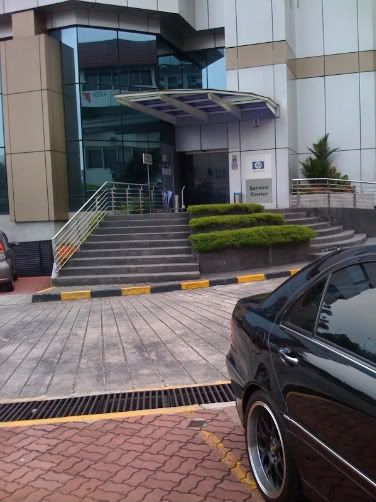 I was highly impressed once I got inside. It's a very nice and cosy place with sofas and coffee tables. There were lots of tech and gadget magazines, also a plasma TV with satellite TV showing Discovery Channel. My favorite was the lil corner where they served up free coffee, hot chocolate, cookies and sweets. My kids were thrilled to bits. We actually sat in the lounge for another 45 minutes even after I was done dealing with HP.
Anyway, HP didn't try and make any excuses or try to get out of giving me a new battery. The customer service rep just asked me what the problem was. I told her the battery was failing and she said "no problem sir, give me a few minutes, I'll go get a new battery for you immediately". Off I went to enjoy my hot coffee while waiting for her. 5 minutes later she called me back to her desk and said they had just run out of stocks and promised to call me when it was available again.
I got a call the very next morning. So I went there again to collect the replacement battery. Guess who asked to come along? My 3 kids all wanted to come along again coz they liked it so much the day before. Hehe. How often is it that we actually enjoy a component failure. Most times, component failures cause us lots of aggravation. It's a lot of wasted time having to go over there and explain the problem with the part and then having to wait weeks or even months for a replacement. The last time I had a component failure was with an Asus motherboard and they made me wait 3 months for a replacement. That was totally lame. Mind you, it was a top of the line Striker Extreme motherboard which cost big bucks and yet the customer service left a lot to be desired.
Anyway, I went back the next day and got the battery within 5 minutes of arrival. That shows top notch customer service. All the counters were open and manned and they worked really fast to get things done. Problem is, we spent another 30-40 minutes in the lounge after I got my new battery coz my kids wanted to chill out there again. LOL.
Soooooo.......... I had a really nice afternoon tea with my kids, 2 days in a row, all thanks to this-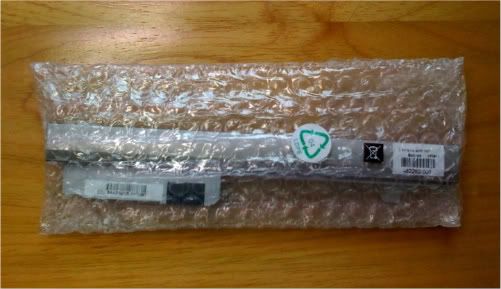 I'm happy to report that the new battery works just fine and I'm back to getting about 2 hours out of it on the HP Optimised power profile in Windows Vista. Thank you HP for the top notch customer service. My Mini is back in action after just 1 day. I will most certainly buy HP again when the time comes to get a new laptop in the future.
Other articles on the HP Mini-
HP Mini 2133 review
How to: Upgrade HP Mini 2133 RAM
HP Mini 2133 six cell battery review