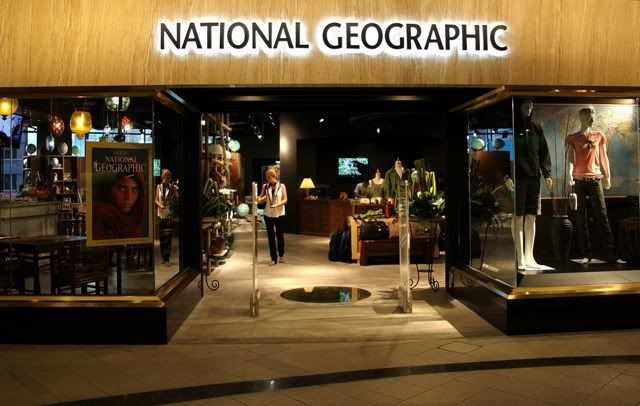 It's finally here after months of anticipation. I went to the store yesterday to see how it compares to the store in Singapore. I was pretty dissapointed when I got there. It's a really small place compared to the 1 in Singapore. I reckon it's about 1/10 the size of the Singapore store.
This is the whole front. That's it! It is that small.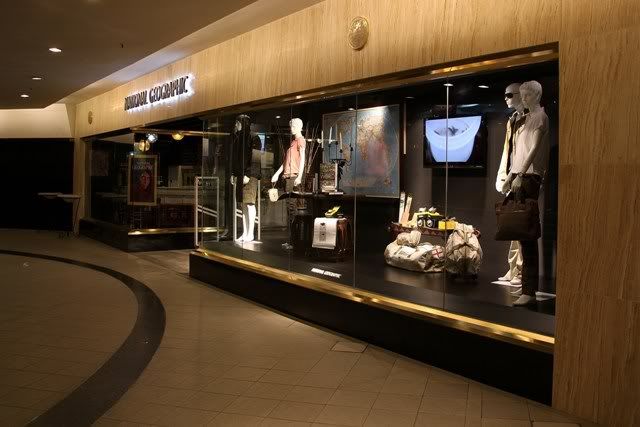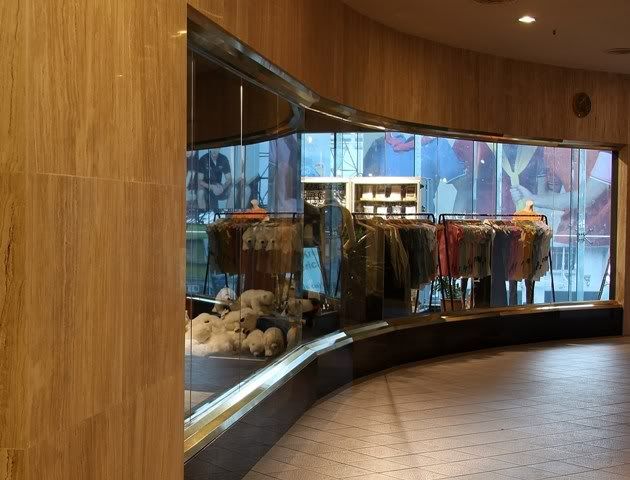 The photo gallery only has about 10 pictures. Just a small corner on the left side of the store. Soooooooo disappointing.......... They dont sell the prints either, unlike the Singapore store. Worst thing about this Nat Geo store is................no photographic equipment for sale! The Singapore store had lotsa camera bags, tripods, monopods and such.
There's no cold room for us to experience antarctic conditions, the Singapore store had 1. There's a section with a reasonable amount of books for sale, the rest of the store is mainly selling bags and clothes, and finally a corner for the kids. It was a really underwhelming experience. There's 1 good thing about this store and it's the cafe. The Singapore store doesn't have a cafe so I guess this is the redeeming feature of the KL store.
The cafe is really nice and cosy. It's decorated with antique furniture and a plasma TV hanging over the bar showing none other than the Nat Geo channel. A very nice relaxed atmosphere for a cup of tea or coffee. I spent about an hour there with my wife and kids after ordering some cheese cubes and samosas to go with coffee. I thoroughly enjoyed the hour there. The food was good, coffee was good and we enjoyed watching the Nat Geo channel while we were there. The menu is pretty limited right now as the kitchen is not fully operational yet, so dont go there for lunch or dinner.
Here's a pic of the yummy cheese cubes, samosas and coffee we ordered.
The food and coffee was good and the service was excellent. Be prepared to pay though. I didn't mind the pricing but I reckon most Malaysian's will find the pricing pretty steep. It's more expensive than Starbucks/Coffee Bean which is already pretty steep by Malaysian standards.
Overall, it was really disappointing to see such a small store but the cafe saved the day. Hehe. Those of you who haven't seen the big Nat Geo stores will probably like it but those of us who have been to the big stores will be just a wee bit disappointed.