I've been using this so called USB2.0 All in 1 Card Reader. It's an absolute nightmare.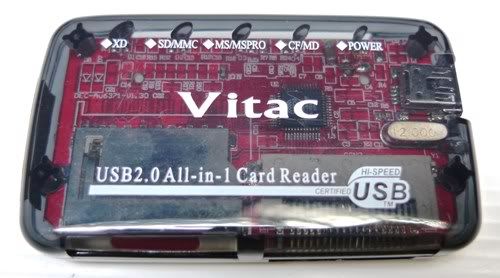 I thought all card readers rated as USB2.0 should have the same performance. How wrong. I never realised how slow this card reader is coz I always upload the pics after taking a few shots for my PC Modding worklogs. I only realised it's dog slow when I came back from the trip to Shanghai when I had 2 full 4gb CF cards n a full 2gb SD card. It took an eternity to upload the pics to my PC. So I went n bought a proper card reader yesterday. I had my eye on the Buffalo n Sandisk brands coz I've read their pretty fast. Couldn't find Buffalo so I looked at the Sandisk Imagemate which came with some freebies like Photoshop Album. It looks pretty good too with a docking station.
Then I saw a really stylish looking reader called Apacer AM500. I whipped out my iPhone n did a quick Google search on it. Seems it's a just released high performance product from Apacer so I bought it immediately. It's a sexy beast. The casing is sandblasted aluminum with black chrome trim. Looooooooovely just fantabulously looovely. I like all my things in black. It supports all major memory card formats. Here's how it looks like.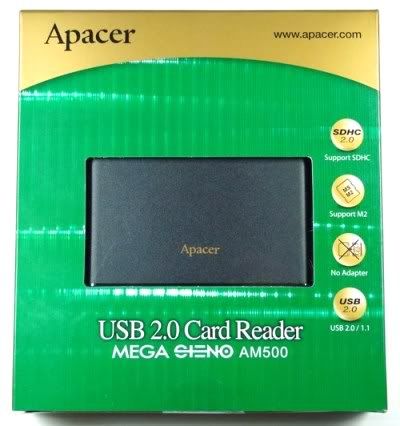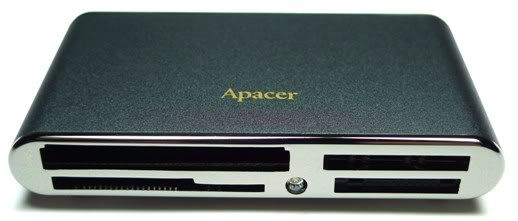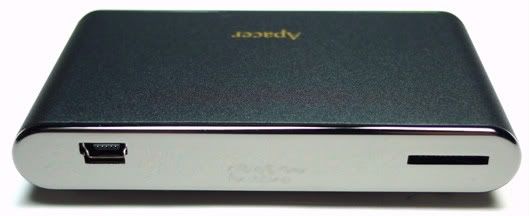 Looks nice eh? Howzabout the performance? Well, I ripped it out of the box as soon as I got home n did a quick test. I had a 2gb SD card with 920mb worth of pics in it so I used that for the tranfer test. I tested by transferring the 920mb to my PC using Windows Vista n timed how long it would take to completely transfer over to the PC.
Vitac All in 1- took 15 minutes and 26 seconds.
Apacer AM500- took 1 minute and 18 seconds!!!!!
Incredible results I would say. The Apacer AM500 did it at more than ten times the speed of that generic piece of $#!7. LOL. This Apacer AM500 card reader gets 10 thumbs up from me. Awesome performance n svelte sexy look with superb build quality.
If you liked this article or found it helpful, please check out the advertisements ya? Your support is much appreciated. :) :) :)