I received a text message from DiGi yesterday. It said 1st 300 people to turn up at the registration counter will receive a free gift. I was wondering what gift it was. Since I live about 5 minutes away, I decided to take a drive there to pick up my free gift.
They took up the whole Oval concourse area. Looooooove my Leica D-Lux4 24mm wide angle in this shot. hehe.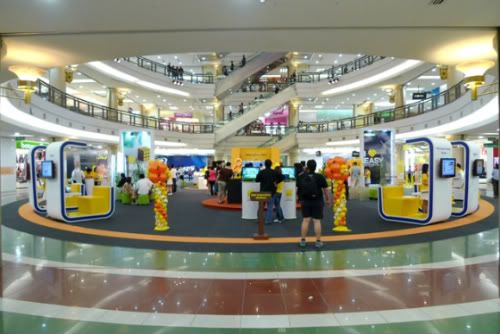 The only cool thing I saw at the fair was this Interactive Wall thingy. Anyone remeber the show Minority Report? It was kinda like that display wall Tom Cruise was drawing n working on. The DiGi guy was using his hands to draw n paint on that big screen. Cool Stuff.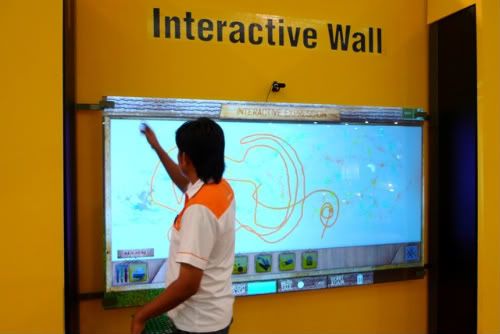 I went up to the top floor to try n see if I could get an unusual wide angle shot of the whole concourse area n got a pretty interesting perspective with the 4:3 mode switched on. Kinda looks like a fisheye lens eh?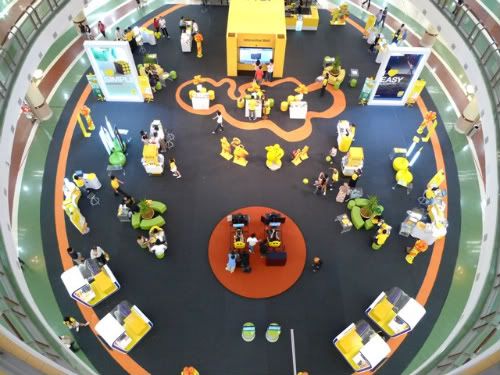 Now, to the free gift. Pretty dissapointing I'd say. Come on DiGi, I've been a loyal customer since you arrived n set up shop in Malaysia n this is all I get? A lousy looking neoprene CD bag. :( Please give us something a lil more useful next time eh? In this day n age of MP3, how useful is a CD bag? LOL.