I was sorting out pics of the Shanghai trip today n came across this photo I took. It's really funny. A fake brand name n they couldn't even spell it right. Thought I'd post this up while I sort the 1000s of pics I took in Shanghai. The Chinese spell crocodile as Clio Coddle! It took me a while to figure out why on earth the brand is called Clio Coddle n realised if u stick the 2 words together it sounds like crocodile in broken english if u say cliocoddle coz they cant pronounce the R alphabet. LOL.
This pic was taken at Nanjing Road, Shanghai. It's a fantastic pedestrian mall smack in the middle of Shanghai. Malaysia should learn a thing or 2 from them instead of sending officials over to China to check out how they keep public toilets clean.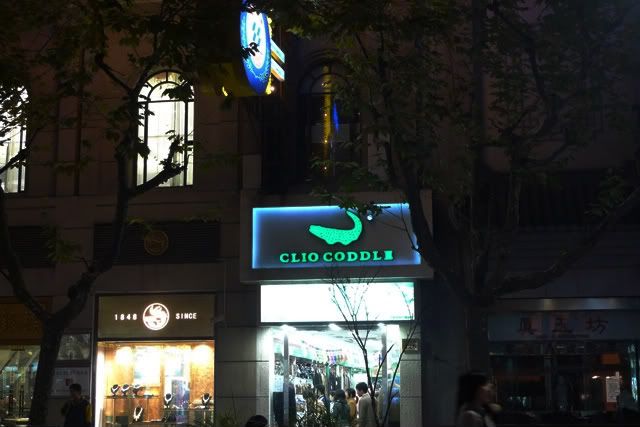 While I'm on the subject of brands in China, here's another 1. Just imagine a company rich enough to get Wentworth Miller(of Prison Break fame) to endorse their products but couldn't hire someone to give the brand a proper name. It's called Me & City and Meters/Bonwe. Haha. Wentworth Miller was actually in Shanghai doing a promo tour for Me & City and Meters/Bonwe. We didn't manage to see him though, we were too bz shopping. Hehehe. Me & City and Meters/Bonwe, such horrible names! Any1 knows what Meters/Bonwe means?