Here's some proof for those who believe that silly Antartica article somewhere on the internet. The way that guy said it, was like the 5D MkII would fail at the slightest hint of water.
I've read an article somewhere that Canon specifies the weather proofing to be rated at 1cm of rain in 3 minutes. That's a whole lot of rain in 3 minutes. Anyway, I recently tried it out myself and am totally confident in the 5D MkII's weather proofing now.
I was on holiday in Penang Island recently. That's a tropical island and when it rains, it really pours down by the bucket loads. I was there for a week and it rained every single night. I took my 5D MkII out anyway and continued using it in the pouring rain without a care. It survived a week of tropical rainstorms.
Here's some pictures I took of my camera getting soaked. Sorry for the bad quality, these pics were taken after a walk in the rain. I sat down to have dinner at the food court and took these pics with my iPhone.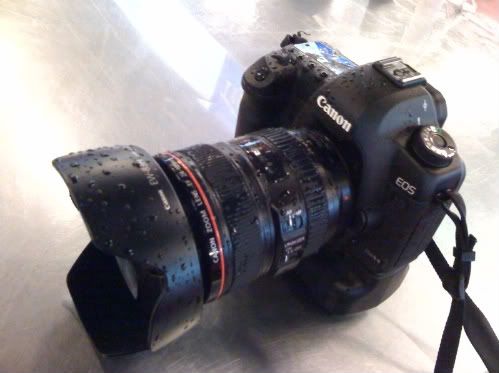 I've since taken the 5D MkII out on a few more rainy adventures and have had no problems at all. In fact, I went out for a sunrise shoot by the sea this morning. It was pouring down and I kept clicking away. Hehehe. So........... all you 5D MkII owners, stop hiding when the weather gets bad. Take your camera out and have fun!
Added on 17th January 2010-
I just attended a Canon event a few days back and the Canon representative was talking about the weather resistance of the EOS 1D MkIV. He said it was rated to withstand 1cm of rain in 3 minutes. That is a JIS(Japan Industrial Standards) approved test. The 5D MkII is also rated to withstand 1cm of rain in 3 minutes. So now we know for sure that the 5D MkII is built to the same weather resistance standard as the EOS 1 series. Anyone heard or read about whether the new 7D is also rated to withstand 1cm of rain in 3 minutes?