Wheeeeeeeeeeeeeeeeeeeee! After spending 2 weeks sitting at home............ in pain. I've finally recovered from the oral surgery. I then decided to have some fun in the sun. Let's just say it's my Operation Recuperation Vacation. LOL.
I wanted to go to a Tropical Island Paradise for 2 weeks. Was deciding between Phuket and Penang. My favorite hotel in Phuket didn't have any rooms available. My favorite hotel in Penang called Golden Sands Resort, Shangri-La Hotel had 2 rooms available for 1 week so I figured 1 week is better than none.
So here I am in the Tropical Paradise Island. Got here early today and immediately went down to have some fun in the sun. Aaaaaaaaaaah a nice sunny day.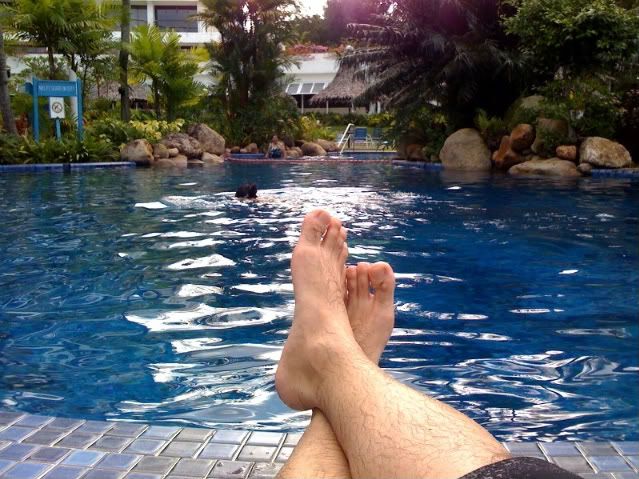 As the sun started to set, it was time for a nice cup of coffee by the sea at my favorite part of the hotel. It's kinda like a boardwalk cafe. Aaaaaaaaaaaahhh this is life. Life Is Good!
A most wonderful way to end the day, watching the sun set with a nice cup of coffee.
Sorry for the low quality pictures. I only had my iPhone with me at the time. The SLR was in the room. I took a few pictures of the hotel room when I 1st got here and I can tell you, it's a gadget freak's dream come true. Hopefully I'll be able to upload the pictures from the SLR to my laptop coz I tried it earlier and I had some problems with my card reader. Will try and get the pictures uploaded tomorrow so stay tuned. :)
Part 2- Gadget Freak's Ultimate Hotel Room