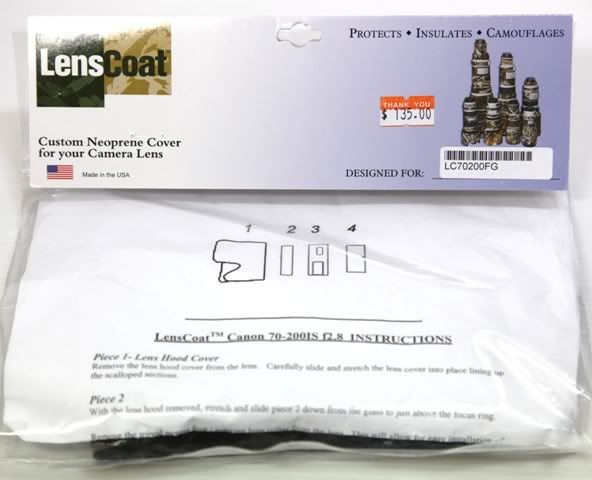 Here's a lil something I bought recently. Didn't have time to write about it. It's a neoprene protective cover for the lens. I had this on my Sigma 70-200 f2.8 last time. The Sigma was a black beast so I kept to the theme and used a black LensCoat on it. Here's how it looked like on my Sigma.
What I really wanted was the Camouflage LensCoat when I got myself a Canon 70-200 f2.8L IS. So I bought the Forest Green Camo LensCoat just after buying my new Canon lens. Hehe. Here's how it looks like.
I absolutely love it. It provides really good protection from minor bumps and scrapes. It will also help keep prying eyes away too. I hate walking around with a big white lens while on vacation as it attracts unnecessary attention. I don't mind when normal looking people are staring but when shady characters start staring, that's when I get worried. I don't wanna get clobbered on the head and the camera stolen, just because every Tom, Dick and idiot knows that a white lens costs big money.
It costs a bomb. I paid SGD135(USD100) for it in Singapore and it hurts the wallet just a wee bit but I'm happy with it and that's all that counts. Hehe. I kinda like the Digital Camo color too but that wasn't available when I bought mine so I might get that next time so I can match it to the new digital camo Crumpler Industry Disgrace strap I just bought. Looks kinda funny with forest camo on the lens and digital camo on the strap now.