I was sorting through the pictures I took in Singapore recently and came across these pictures. I totally forgot to write about them. So I decided to write it as Part 3.
This is a really cool camera shop to go to if you're into old classic cameras. It's called Ron's Cameras. It's located in Adelphi Lifestyle Mall. Adelphi is just across the road from Peninsula Plaza. I've given the directions on how to get to Peninsula Plaza in Part 1 of this article.
Ron's Cameras has got tons and tons of old, classic cameras. Just look all those looooooovely Leicas in the window display. Unfortunately for me, it was closed for some reason and I didn't go back there again so I can't tell you guys what other goodies were in there. :(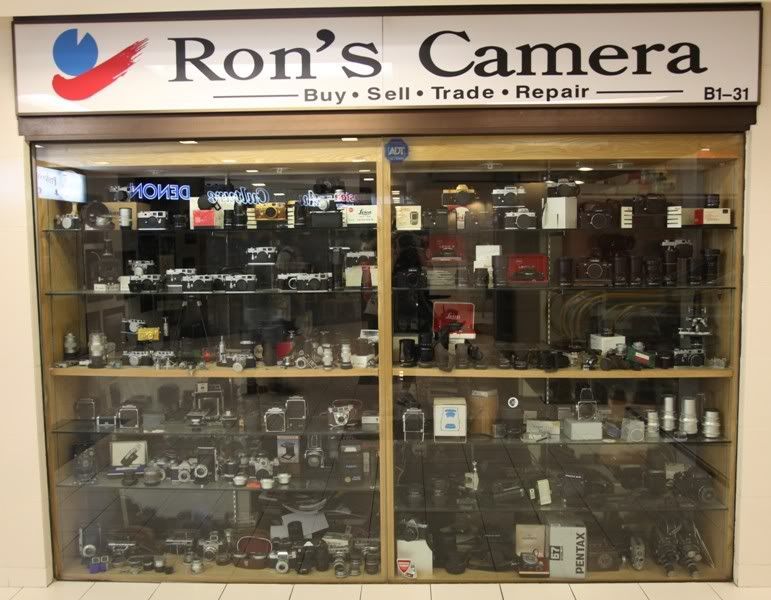 This next shop is my favorite camera shop in Singapore. It's called John 3:16 and it's located inside Funan Digital Mall. Funan is directly across the road from Peninsula Plaza too. Just get the directions to it in Part 1 of this article.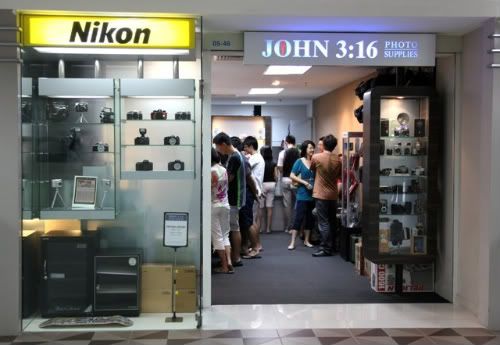 The owner, Samuel Gan is a fantastic guy. Really friendly and helpful. Beware though, I call him the Witch Doctor as his poison is extremely potent. He will poison you with lots of fantastic gear until your knees go weak. LOL.
Sam's got a pretty interesting story too. He once scolded a customer in his younger days and his father was so embarassed by his son's behaviour, he told the poor customer to pick out anything in the shop and he could take it for free! What the old man did to Sam after that is anyone's guess. LOL. That's the day he learnt about supreme customer service and I bet his father gave him a lesson he never forgot.
This explains the superb customer service at John 3:16. The customer service in there is the BEST of all the shops I went to in Singapore. Sam is a guy who knows his stuff and he will give you advice on what to buy based on your budget. Don't expect to get the lowest price in Singapore though. Sam readily admits that he's not the cheapest shop around but he assures you the best service possible. I can attest to this fact. They really are the friendliest shop. Do not miss this shop if you're in Singapore.
So........... did I buy anything from John 3:16? You bet I did. I asked for the Canon EF 17-40 f4L and a EF 70-200 f2.8L IS. Unfortunately, the 70-200 was sold out on the day. It was Singapore F1 week and everyone was buying up the fast zooms. I decided to buy the 17-40L and look for another shop with the 70-200 the following day. I took a few test shots with the 17-40L before paying for it.
The obligatory lens cap shot. Hehehe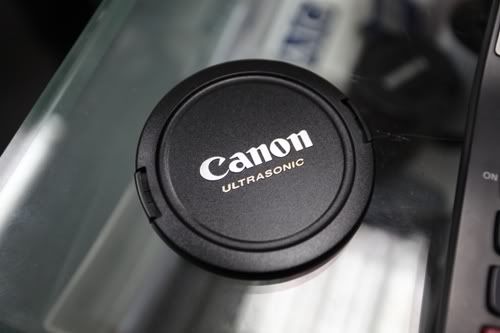 Random test shot.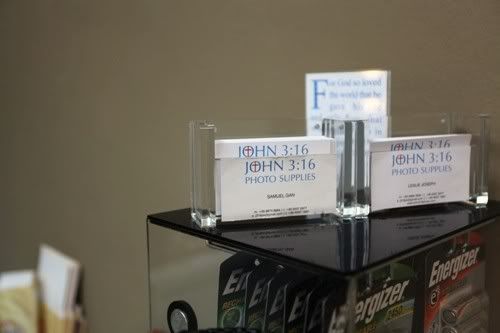 Trying out the 17-40L's Ultra Wide Angle goodness outside.
As for the 70-200 f2.8L IS, I went out the next day and found it at Cathay Photo. I quickly bought it before more of the F1 fans came looking for it again. Hehe. Didn't take the obligatory lens cap shot this time as the MFD is 1.5m which is a pain in the ass when it comes to shooting a lens cap. So I went outside and took some shots with it.
Trying out the legendary bokeh at 200mm.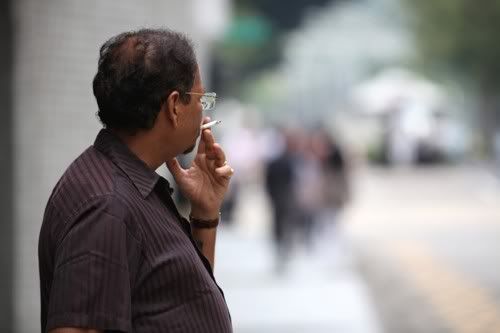 All in, it was a most productive shopping trip as I managed to get 2 loooooooooovely lenses. Hehe.
Best camera shop in Singapore- Part 1
Best camera shop in Singapore- Part 2
If you liked this article or found it helpful, please check out the advertisements ya? Your support is much appreciated. :) :) :)