OMG! I went shopping today and saw that the Canon 450D is extremely cheap now. It's only rm2100(USD600). I just couldn't help myself and brought 1 home. I was actually thinking of getting a Canon G11 as a daily use compact camera that I can walk around with wherever I go. I liked the idea of the G11 coz I can use my Canon Speedlites and the ST-E2 wireless commander with it. However, my daughter's been bugging me to get a small SLR coz she loves photography too, and the 5D MkIIs that I have are really heavy for her. So I decided on the 450D since it's so small and compact. It's practically the size and weight of a point n shoot cam. LOL.
It's a nice lil camera really. I've tried a few shots with the 18-55IS kit lens and the picture quality is pretty good. I even think it's nicer than the 40D I had. The AWB is certainly much better than the 40D which tended to be really warm. I will torture it in the next few days and also try it out with my L lenses to see just how far this lil fella can go.
Anyway, here's the new baby in the family. Hehehe.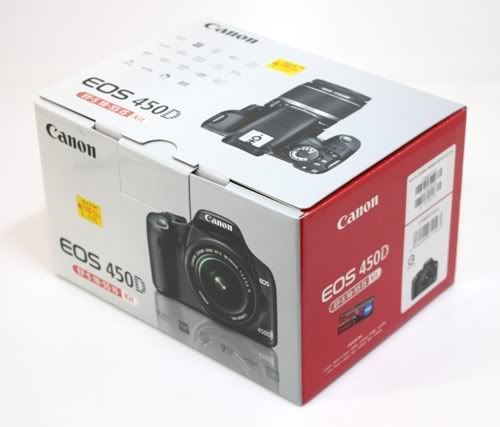 It's so cheap now, you guys who are still suffering with lil Point n Shoot cameras better hurry up and go grab 1 of these lil beauties for Christmas. Life is Good, make it a good Christmas. Hehehehe.