I was sick for a whole week recently. Caught a stomach virus according to my doctor. I woke up on the 8th day feeling ok and suddenly decided that I need some retail therapy after doing nothing but sleep for an entire week. It's been 2 years since I went down to Singapore so I decided it's time for a trip down to shopping paradise.
So off we goooooooooooooooooo to Singapore. Please collect $200 as you pass GO and spend it at Orchard Road. LOL.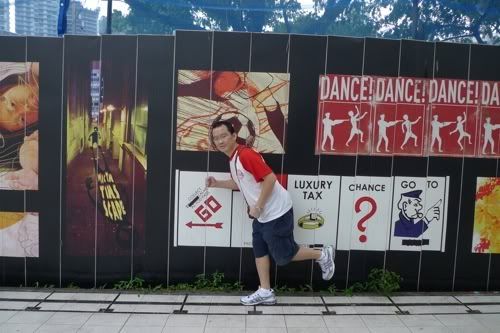 As soon as we entered Singapore, I quickly Googled about the cheapest place to park on Orchard Road for all day parking. The last trip, I parked at Takashimaya and the parking cost a BOMB. It was something like $20+ SGD(all $ will denote Singapore Dollars from this point) if I remember correctly. Google results showed that the cheapest was to park at Meridien shopping center. It used to be Hotel Le Meridien but it's now been taken over by Concorde Hotel and has become a dump of a place. I stayed at Le Meridien once, when it was a proper International 5 Star Hotel and it was brilliant. The Concorde Hotel there now is a dump in comparison. I suppose that's the reason the parking is pretty cheap now as it's no longer a prestigious hotel. The parking charge is $1.60 for the 1st hour and 0.80 cents every half hour after that. Then they stop charging after 6pm or something like that. I paid about $12 per day only. That's really cheap compared to the other places along Orchard Road.
1st mall we went to was a really new place called Orchard Central coz it's directly across the road from where I parked the car. It's basically at 1 end of Orchard Road. This is the less glamorous side of Orchard Road.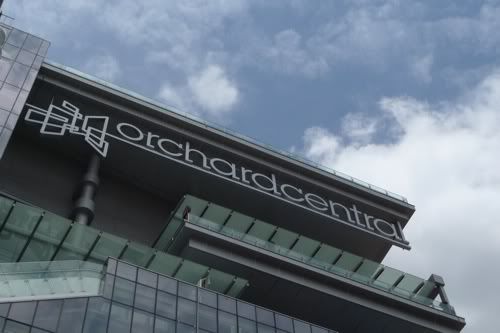 It's a fantastic looking mall with really nice architecture.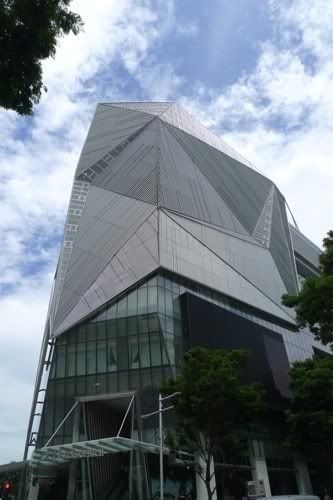 The interior design is brilliant! It's got extremely high ceilings and really wide open spaces for a really airy kinda feel. Some parts of the mall had ceilings as tall as 4-5 storeys! Take a look at this particular section of the mall. It had a statue that was about 4 storeys tall. I could hardly fit it within the frame of my camera at 24mm wide!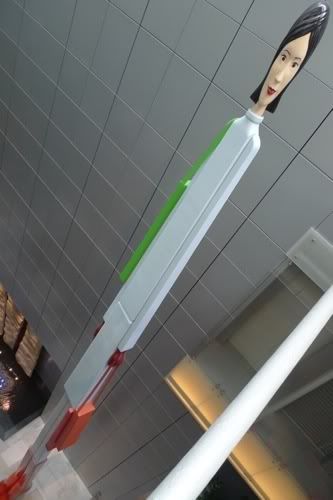 Here's another section of Orchard Central that's really spacious. Just look at the amount of space there. Right at the other end of this picture is a cafe with a rock climbing club or something. Just imagine how tall that area is with a rock climbing wall there.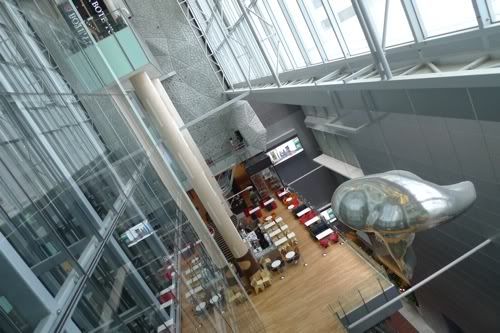 We moved on to the other malls but came back to Orchard Central at the end of the day. So here's some pictures of how nice it looks at night.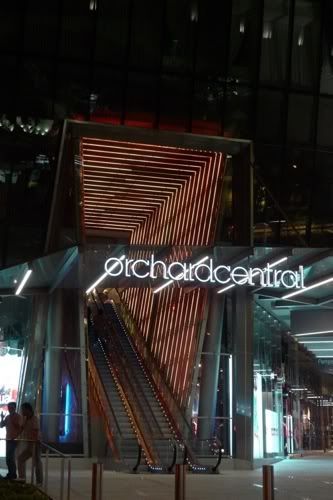 After Orchard Central, we moved on towards the more glamorous part which is waaaaaaaaaaaay over at the other end of Orchard Road. There's a really fantastic mall that just opened on the 6th of August. It's called...........................
Here's how it looks like on the outside. Best architecture I've ever seen for a shopping mall.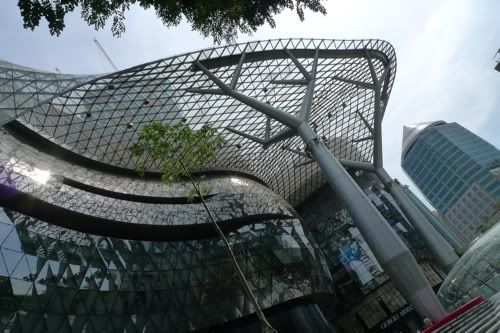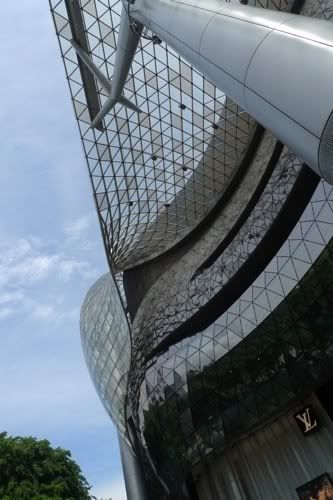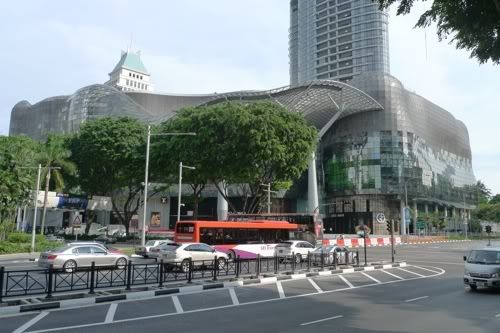 This "bubble" that's jsut outside the main entrance of Ion is an escalator entrance to the lower levels of Ion. It also goes to the MRT(Singapore's subway train system) station.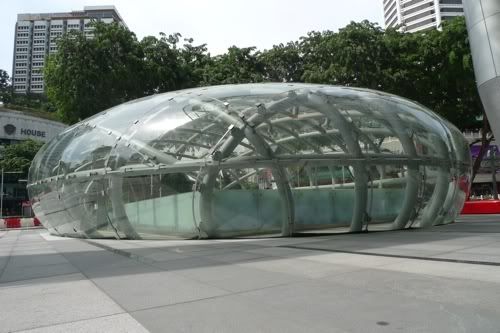 It glows very nicely at night. That good looking couple in the picture is..................... my wife and I. Hehehe.
Rachael(my youngest daughter) and I looked into Medusa's eye and got turned into stone just outside Ion. LOL.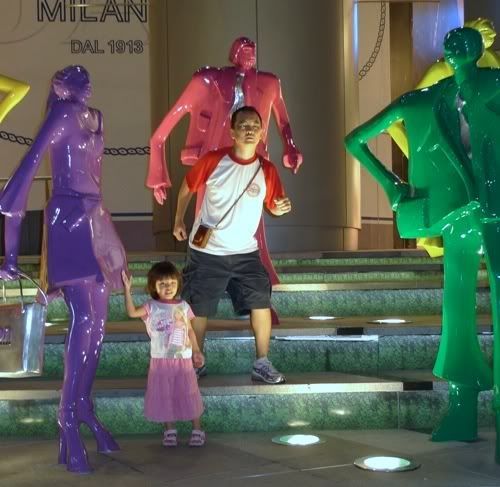 Next up is dinner. I decided to take my family to a place called Boat Quay. It's a really nice place by the Singapore River. We got out of the MRT station called Raffles Place and walked through the financial district to get to Boat Quay. Here's a picture of the financial district while walking to Boat Quay. Look at how tightly packed the skyscrapers are!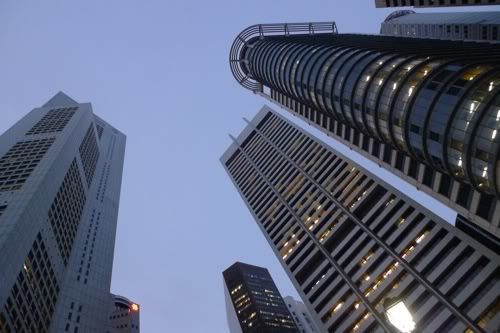 There's lotsa restaurants all along the river. We picked 1 that served chinese food and devoured it like a pack of hungry dogs after walking all day. Some fun and games with my 2 older daughters during dinner at Boat Quay.
That concludes our 1st day in Singapore. It was the girls' day out on Orchard Road looking at girly things.
Day 2. I woke up and declared day 2 as mine. All MINEeeeeeeeeeeeee. I was gonna go gadget shopping. As usual, we parked at Meridien and traveled by MRT to the other places. Singapore is really nice in that they really educate the people well and always remind them to be civic minded at all times. Here's a really good example. Phua Chu Kang( Singapore funny man) reminds everyone to play nice in the MRT. LOL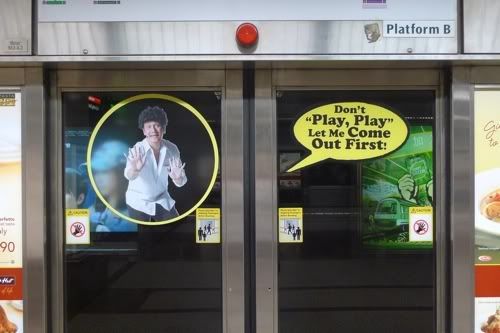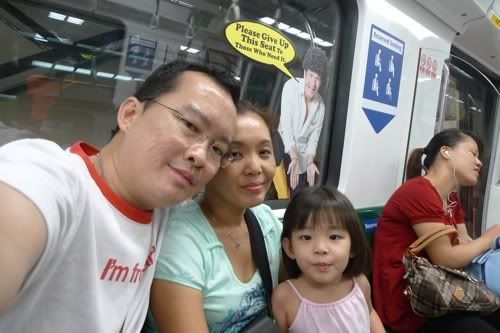 We got to Funan Digital Mall after a short ride on the MRT. All you need to do is get on the train at Orchard station and get off at City Hall. Then it's just a short 5 minute walk to Funan Digital Mall. Ask the locals and they will gladly point you in the right direction.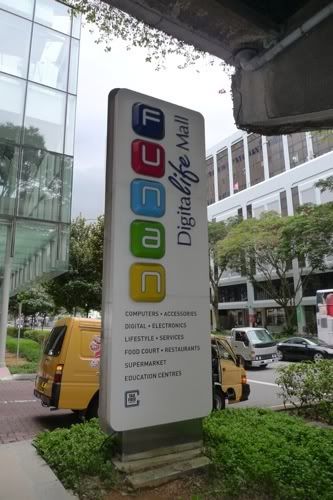 This is the most gigantic electronic gadget mall I've ever seen. Just look at the sheer size of it. It's a giant mall filled to the brim with electronic gadgets!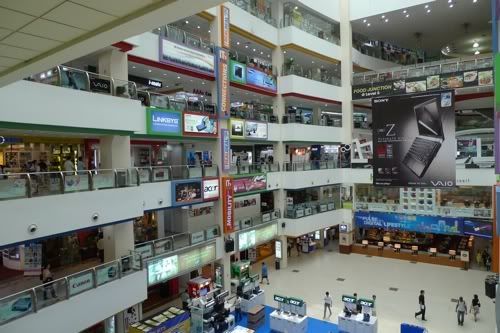 After that we moved on to a place known to have the best camera shops in Singapore. It's called Peninsula Plaza and it's just across the road from Funan Mall. I'll provide detailed instructions on how to get there in the next posting. Spent a few hours in there looking at camera stuff. I drooled and drooled and drooled over the Canon EOS 5D mkII while in there. I was practically dehydrated after that. LOL. I was soooooooo tempted to get it there and then but I couldn't make up my mind whether I wanted it or not. So while I was at Cathay Photography, I settled for a Sto-Fen Omni bounce for my Canon 270EX flash. It was nice and cheap at $30 and most importantly, not available in Kuala Lumpur. Yay! I bought a lil something from Singapore's Best Camera Shop. Hehehe.
After Peninsula Plaza we moved on to a place called Sim Lim Square. This place is nowhere near as nice as Funan but it's where the locals go for really cheap electronics. Funan caters more to the tourists and is a lil bit more expensive. Sim Lim is where the cheapskates go. LOL.
Here's how Sim Lim looks like from the outside. Doesn't look very inviting eh? The inside looks just as bad but trust me, once you're in there, you won't care how ugly or run down the place is coz it's electronic gadgets heaven.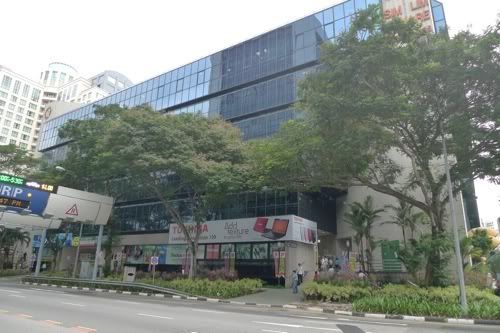 Days 3, 4 and 5 were all about more shopping at Orchard Road where we explored just about every single mall. We also checked out the Tourists Information Center which is smack in the middle of Orchard Road and found some really good deals. For every $300 we spent, they gave us a Chocolate Fountain thingy. They even included the chocolates! They also gave us a $10 voucher for use in Tang's and another $10 for use in Robinson's departmental stores. They required our passport for the gifts and 1 person can only make 1 claim per visit to Singapore. So we used my passport and then my wife's passport to claim 2 packages. We saw the chocolate fountain thingys in Tang's being sold for $60. So that's a $60+$10+$10 value per package. We claimed 2 gift packages which amounts to $160. I'd say that's a pretty darn good deal.
Here's the chocolate fountains we received.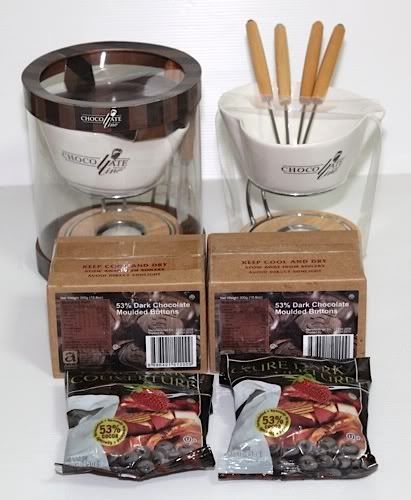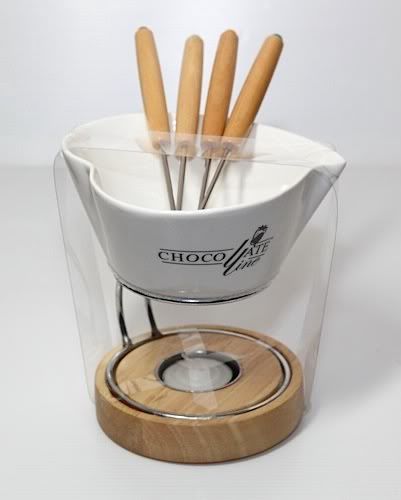 No pictures of the Cash vouchers for Tang's and Robinson's departmental stores as we already used them while in Singapore. Hehe.
Just remember to keep all your receipts from the different stores. As long as you spend $300 in Singapore per day. They don't care what you spend it on, it can be anything as long as you accumulate receipts worth $300 in 1 day. Even food and drink receipts from restaurants can be accumulated. I don't know when this promotion ends though. So be sure to visit the Tourists Information Center at Orchard Road if you're in Singapore. They also provide really good information about tourists spots, how to get there, what to see and do, maps, and lots more. There's even 2 computers in there that we can use to access the internet. You can do your online bookings, email, and just about anything you need the internet for.
It was a wonderful 5 day vacation after spending 7 days in bed due to the stupid stomach virus. I felt totally refreshed after all that retail therapy and I highly recommend it to anyone who loves shopping. Hehehe.