I did some exploring at the mall across the road from Peninsula Plaza too. If you're standing under this signboard at the main entrance of Peninsula Plaza..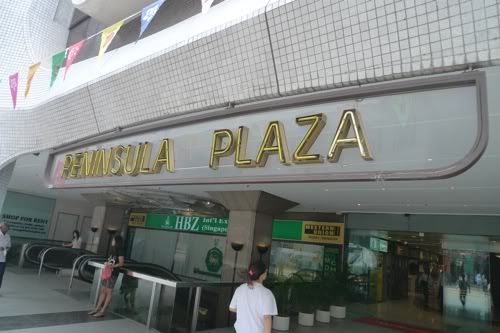 Look directly across Coleman Street and you'll see this. Just go ahead and walk by Ruby Photo. There's nothing much to see in there unless you're a film enthusiast. They have lotsa film stuff in there.
Once you're in that building, walk around and you'll see there's quite a few camera shops in there. This 1 is my favorite on the ground floor. It's called P&G Photographic Centre. It's a buy, sell and trade kinda shop.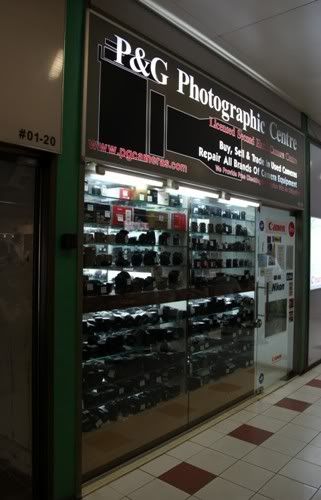 The owner is really nice and friendly. He was the only guy who quoted me some really honest prices. The other shops were quoting me some rather ridiculous prices. He allowed me to try out some lenses too. Here we are fooling around with the super wide angle Canon 17-40mm f4L on my EOS 5D MkII. Hehehe
Checking out the field of view for the Canon 17-40mm f4L at 17mm. Can you say wiiiiiiiiiiiiiiiiiiiiiiiiiiiiiiiide!
For comparison, I took this at 24mm with my 24-105mm f4L.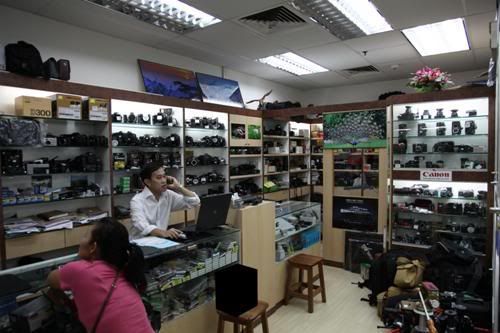 There are quite a few other shops in there so be sure to go and explore them all.
Best camera shop in Singapore- Part 1
Best camera shop in Singapore- Part 3
If you liked this article or found it helpful, please check out the advertisements ya? Your support is much appreciated. :) :) :)