This is the best camera shop in Kuala Lumpur in my opinion. It's Called YL Cameras and it's located inside Pudu Plaza. Here's how Pudu Plaza looks like.
What makes them special is that they buy, sell and trade all kinds of camera stuff. They also carry a huge range of new cameras, lenses and accessories. Here's how the shop looks like. Just look at all that lovely stuff in the front glass display. See those huge white beasts at the bottom there?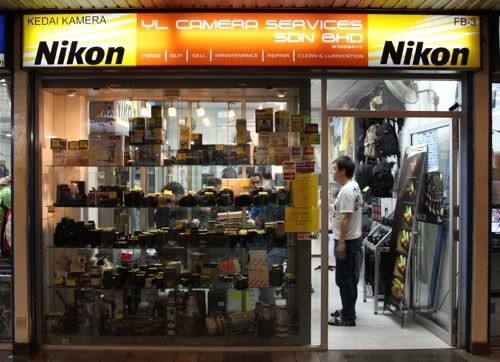 How do you get there? If you visit Malaysia, you're definitely gonna visit Kuala Lumpur which is the capital city of Malaysia. While in Kuala Lumpur a place you'll invariably see is Sungai Wang Plaza. It's about the most popular mall in the city center. There are lotsa camera shops in Sg Wang too. A really good shop to visit in Sungai Wang is called Boeing Cameras. You will be able to get just about anything for any brand at Boeing. Only thing is that they don't have used equipment and they don't buy, sell and trade like YL Cameras.
To get to YL Cameras, just take a cab from Sungai Wang and it should only take 5-10 minutes(if there's no traffic jam) to get to a mall called Pudu Plaza. YL Cameras is inside Pudu Plaza so just get in there and do some exploring. It's a pretty scary place to go to if you're a tourist. It's kinda dark and dirty in there. Very seedy too as it's a place swarming with prostitutes. It's sorta like a red light district there. So, make sure you don't wear any expensive jewellery or carry anything flashy like your lovely EOS 1Ds mkIII. I'd recommend you to keep the camera in a bag and only take it out of the bag once you're inside YL Camera. Better to be safe than sorry eh.
Don't let that scare you off though. You really must visit this shop if you're in KL. You may even score some rare 2nd hand equipment while you're there. Put this on your "Must See" list while you're in Kuala Lumpur if you're a photographer.
If you liked this article or found it helpful, please check out the advertisements ya? Your support is much appreciated. :) :) :)