Decided to go shopping for camera stuff yesterday as I needed a few essential things for my new EOS 5D mkII. What I needed was some lens caps, filters and a proper glass LCD screen protector. It was a massive mistake though, I didn't realise it was a public holiday! Worst thing is, I was headed towards Pertama Complex. That area is extremely crowded during the month of Ramadhan. The Malays go there for their supplies in preparation for Hari Raya.
This is what greeted me in town. TOTAL gridlock! Arghhhhhhhh, I was stuck in that traffic for hours. Must remember never to go into KL City on public holidays ever again.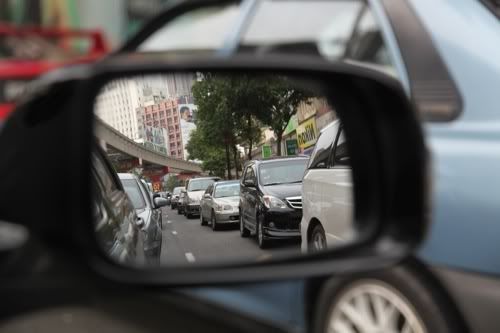 After getting a few items from Foto Selangor, I got stuck in that massive traffic jam again. I needed to go to YL Camera in Pudu Plaza this time. Wanted to get some nice UV filters there. I finally got there after what seemed like a billion hours in the traffic jam.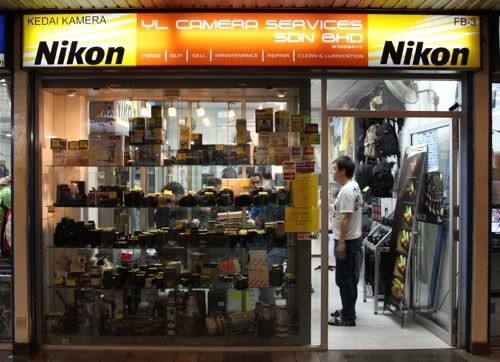 There was a bit of drama when I arrived. I noticed the shop owner was kinda agitated while talking on his mobile phone just outside the shop. What I overheard was pretty unusual. LOL. A customer had stolen some things from YL. They realised the item was missing and checked the CCTV recording and found that it was a regular customer who stole the item. Just imagine that! I mean, if you're so regular there to the extent that the owner has your mobile phone number shows that the perpetrator was a treasured customer or even friend. Why would you rob your friend???? What is this world coming too?
Anyway, the perp naturally denied any wrong doing when the boss called him up. The boss told the perp this "I'm giving you 15 minutes to turn up at my shop with the item in hand, or else I'm going straight to the police station with the CCTV recording". Upon hearing that, the perp agreed to return to YL immediately. Just imagine how embarrassing it must be for the perp to return like a dog with his tail between his legs. Serves him right though. He'd be lucky if he avoids a beating.
After being a bit of a busybody listening to all the fun and games going on, I asked for the B+W UV filter I wanted, tried it out and decided to take it. While they were preparing the bill, I asked to try out the Tamron 28-300mm VC lens which I think is a pretty cool lens.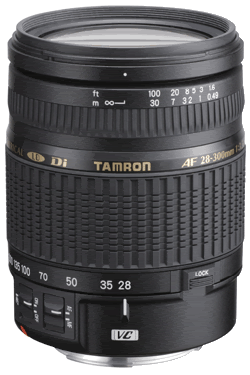 I like the idea of having all that range while on vacation. There wont be any need to change lenses anymore. I did a few test shots to determine the sharpness at the extreme ends of 28mm and 300mm. I wanted to see how effective the VC system was at 300mm. Here's a picture of the Tattoo shop outside YL Camera. This was shot at 300mm and the shutter speed was only 1/20. I'd say that's pretty darn sharp at 300mm at a super slow speed of 1/20.
Here's a center crop of the same picture.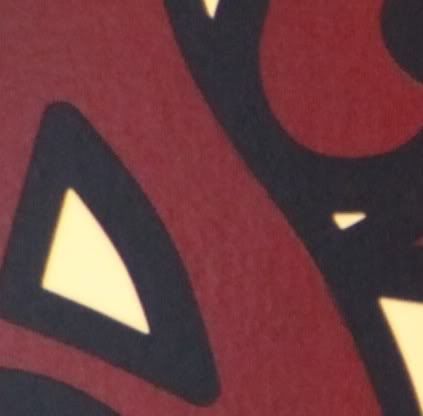 This 1 was shot at 28mm.
I'm quite impressed by the Tamron 28-300 VC. I will certainly think about this lens the next time I go on vacation.
I had to go through traffic hell once again, to get to KLCC which was to be my final destination for the day. After a hellish day on the road. I got a really nice parking lot at KLCC. It was lot #168. How awesome is that? In Chinese, the number 168 sounds like "prosperous forever". Now that is 1 nice parking lot. Hehehe.
I wanted to go to the Crumpler shop in KLCC to get the Industry Disgrace camera strap. It looks really nice in the pictures so I decided to try it out. I'm really happy with my Op|Tech Pro Loop Strap now but the Crumpler is so cheap I thought I'd give it a go. Here's how it looks like.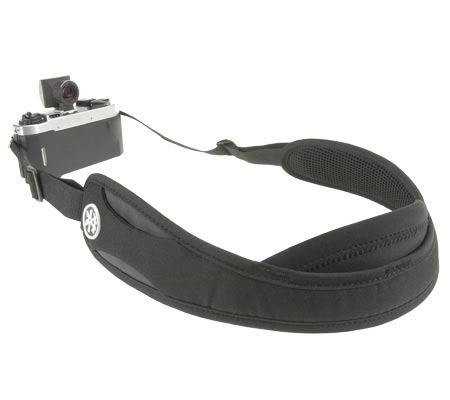 Turns out they had no more stock. The sales assistant told me the new stocks will be arriving in about 2 weeks time. :(
So that was it for the day and I had nothing left to buy. These are the things I bought for the day and that concludes my adventure in traffic hell. LOL.