I tried so hard to get it yesterday. Went out to watch District 9 with my wife at 1Utama. After buying the tickets, we had 1 hour to burn before the show starts. So we went to Big Apple for some donuts and coffee. While having the donuts, I told my wife about how awesome the 5D is, whipped out my iPhone and showed her the Reverie video by Vincent LaForet.
She was awed by the video as I was. To my utter surprise, I didn't have to try and convince her that I needed a new camera. She was all gungho about getting the camera after watching that awesome video. I just have to say a big huge thanks to Vincent LaForet for making my life so easy this time. LOL. I usually have to do some planning and a song and dance about why I need a new camera before she's convinced. This time she just said "OK let's go get it after the movie".
Thankfully, District 9 was a pretty good movie. It would have been a painful 2 hours if it had been a boring show and I couldn't wait to get out of the cinema to go get the 5D. Anyway, we got out of the cinema at about 9pm and had 1 hour to hunt down a 5D. Only 1 shop had it in stock. It was the shop that I really dislike. It's called Shong Lee Photo. They're pretty arrogant to say the least. Shangri-La Photo offered it to me for about $185(rm650) less but they could only get the stocks in next week. So I went back to Shong Lee and told her to match the price at Shangri-La and I'll buy it from her immediately. She wouldn't budge and told me that I was bullshitting her about the much lower price offered by Shangri-La. She even challenged me to go get it elsewhere at a cheaper price than her's. Grrrrrrrrrrrrrrrr........... such ARROGANCE!!!!! Needless to say, we left that stupid shop. I was so dissapointed. I hate having something within my grasp and then having to let go. There was no way I was gonna let that stupid shop lay their grubby hands on my money though.
I couldn't even sleep that night. :( I was just waiting impatiently to go out to KL City the next day to go get my 5D. I went out after lunch and finally got the 5D from Sungai Wang Plaza at my favorite shop called Boeing Photo.
Soooooooooo...... here it is at last. I bought a few other things while shopping for the camera. I bought a 77mm Hoya Pro1 D UV filter, Canon EP-EX15 II eyepiece extender, a couple of iPhone screen protectors and the latest issue of my favorite magazine(Digital Camera Malaysia).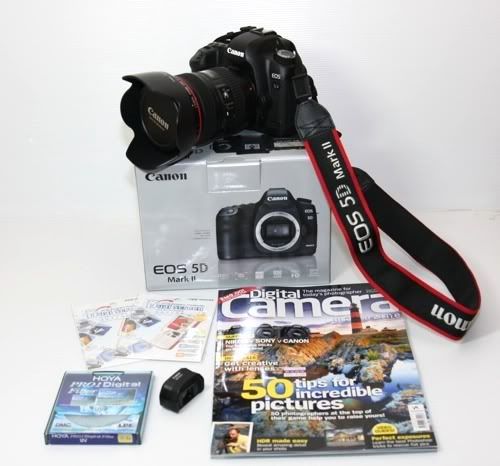 These iPhone screen protectors will be cut to size and I will use them on the back and top LCD screens.
EP-EX15 eyepiece extender. I love this thing. I hate using a camera without it as my nose smudges up the whole LCD when taking pictures. This thingy keeps the nose off the LCD so it stays nice and clean. I have 1 of these on ymy EOS 40D as well.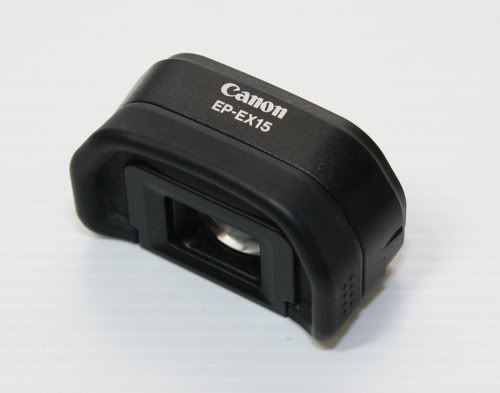 Here's how it looks like as stock.
Here it is with the EX15. Nice eh?
77mm Hoya Pro1 D UV filter to protect my precious L lens.
And finally, the superstar of the show................... the EOS 5D mkII.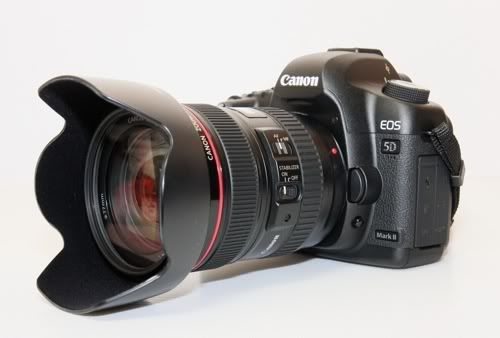 I'm soooooo in looooooooooooooove with this new shiny gadget of mine. I wish someone had donated it to me instead of having to burn a big hole in my wallet though. Hehehe. Didn't anyone see my pleas for a 5D mkII donation in the previous posting???? *hint hint*
So please help me out so I can pay off the bill by the end of this month, by checking out the ads ya? If you happen to like the 5D mkII and wanna buy it, you can also buy it from Amazon through the links below. :) Your support is much appreciated and will help me to buy more shiny new gadgets to play with and write about. :)